Improving the Quality of Madrasah through Integrated Management Model of Madrasah Development Center in Gowa District
Keywords:
Integrated mentoring, performance, madrasa principal
Abstract
This study aims to determine the quality improvement of madrasah application of the integrated mentoring model in Gowa Regency. This research is qualitative research with a phenomenological approach. Research data was obtained from informants through in-depth interviews (in-depth interview), observation, and documentation. The validity and reliability of the data are validated by checking the level of credibility, transferability, dependability, and confirmability. The data were analyzed using qualitative data analysis techniques through the data collection process, data display and conclusion/verification. The results of the study indicate that Madrasah mentoring carried out by MDC in Gowa Regency can be realized through an integrated mentoring model which is carried out in three stages, namely the planning stage is carried out as a whole with good results consisting of (a) implementation of Institutional Socialization and MDC Work Programs, b ) Formation of Verification Team, Mentors and Trainers (c) Verification of Target Candidates and Plenary Session of Madrasah Verification Results, and (d) Need Assessment and Baseline to measure the needs and weaknesses of madrasas and become the basis for developing mentoring programs. The stages of implementation were well implemented involving all components of madrasa stakeholders consisting of (a) training on Effective School Improvement, Madrasah-Based Management, KTSP/Curriculum that applies nationally (K-2013), PAIKEM, Library Management and Development, Healthy Living, Finance and Administration, Innovation (IT-based Learning), (b) Implementation of training outcomes at the madrasah level through mentoring models. Monitoring and evaluation stages are carried out correctly using accreditation instruments and End line Evaluation instruments.
References
Coffey International Development. (2017). GEC EM SCW Endline Evaluation Report final. Coffey International Development Ltd. https://assets.publishing.service.gov.uk/government/uploads/system/uploads/attachment_data/file/676532/GEC-EM-SCW-Endline-Evaluation-Report-final.pdf
Depdiknas. (2008). Sistem Penjaminan dan Peningkatan Mutu Pendidikan (SP2MP). Depdiknas.
Hasibuan, S. P. M. (2007). Manajemen Sumber Daya Manusia. Bumi Aksara.
Juran, J. M. (2003). Juran on Leadership For Quality. Free Press.
Kartawijaya, L. (2000). Berpartisipasi yang Efektif dalam Kehidupan Sosial. Docplayer. https://docplayer.info/140168322-Bab-ii-tinjauan-pustaka-berpartisipasi-yang-efektif-dalam-kehidupan-sosial-2013-175-adapun-manfaat.html
Liliweri, A. (2001). Gatra Gatra Komunikasi antar Budaya. Pustaka Pelajar.
Marsongko, M. H. (2009). Kepemimpinan kepala sekolah dalam meningkatkan mutu pendidikan sekolah [Thesis, UNS (Sebelas Maret University)]. https://digilib.uns.ac.id/dokumen/11471/Kepemimpinan-kepala-sekolah-dalam-meningkatkan-mutu-pendidikan-sekolah
PERATURAN MENTERI PENDAYAGUNAAN APARATUR NEGARA DAN REFORMASI BIROKRASI REPUBLIK INDONESIA, 20 § JENJANG JABATAN FUNGSIONAL (2016). https://drive.google.com/file/d/1SQ2oMjnBb2N0GYS20PqiiuRFT-JhZ-7j/view?usp=sharing&usp=embed_facebook
Miles, M. B., Huberman, M., & Mulyarto. (1992). Analisis data kualitatif: Buku sumber tentang metode metode baru. UI Press.
Moleong, L. J. (2010). Metodologi Penelitian Kualitatif. Remaja Rosdakarya.
RI, S. D. (2002). Undang-undang Dasar Negara Republik Indonesia Tahun 1945. DEWAN PERWAKILAN RAKYAT REPUBLIK INDONESIA. https://www.dpr.go.id/jdih/uu1945
Rivai, V., & Sagala, E. J. (2009). Manajemen Sumber Daya Manusia untuk Perusahaan dari Teori ke Praktik. Raja Grafindo Persada.
Rosyada, D. (2004). Paradigma pendidikan demokratis: Sebuah model pelibatan masyarakat dalam penyelenggaraan pendidikan. Kencana.
Rubington, E., & Weinberg, M. S. (1981). The study of social problems (3rd Ed.). Oxford University.
Sallis, E., Anas, Y., Riyadi, A. A., & Fahrurrozi. (2007). Total Quality Management in Education: Manajemen Mutu Pendidikan. IRCiSoD.
Suharto, E. (2005). Membangun Masyarakat dan Memberdayakan Rakyat. PT. Refika Aditama.
Syani, A. (2007). Sosiologi Skematik, Teori dan Terapan. PT. Bumi Aksara.
Umaedi, P. (2005). Manajemen Peningkatan Mutu Berbasis Sekolah. UMM Press.
Undang-undang Sistem Pendidikan Nasional Nomor 20 tahun 2003. (2018). In Wikipedia bahasa Indonesia, ensiklopedia bebas. https://id.wikipedia.org/w/index.php?title=Undang-undang_Sistem_Pendidikan_Nasional_Nomor_20_tahun_2003&oldid=14461974
Usman, H. (2009). Manajemen: Teori, Praktik, dan Riset Pendidikan (3rd Ed). Bumi Aksara.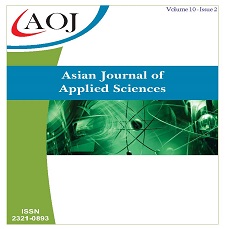 Downloads
How to Cite
Masykur, Bundu, P., & Tahmir, S. (2022). Improving the Quality of Madrasah through Integrated Management Model of Madrasah Development Center in Gowa District. Asian Journal of Applied Sciences, 10(2). https://doi.org/10.24203/ajas.v10i2.6916
License
Copyright (c) 2022 Masykur, Patta Bundu, Suradi Tahmir
This work is licensed under a Creative Commons Attribution-NonCommercial 4.0 International License.
Papers must be submitted on the understanding that they have not been published elsewhere (except in the form of an abstract or as part of a published lecture, review, or thesis) and are not currently under consideration by another journal published by any other publisher.
It is also the authors responsibility to ensure that the articles emanating from a particular source are submitted with the necessary approval.
The authors warrant that the paper is original and that he/she is the author of the paper, except for material that is clearly identified as to its original source, with permission notices from the copyright owners where required.
The authors ensure that all the references carefully and they are accurate in the text as well as in the list of references (and vice versa).
Authors retain copyright and grant the journal right of first publication with the work simultaneously licensed under a Attribution-NonCommercial 4.0 International that allows others to share the work with an acknowledgement of the work's authorship and initial publication in this journal.
Authors are able to enter into separate, additional contractual arrangements for the non-exclusive distribution of the journal's published version of the work (e.g., post it to an institutional repository or publish it in a book), with an acknowledgement of its initial publication in this journal.
Authors are permitted and encouraged to post their work online (e.g., in institutional repositories or on their website) prior to and during the submission process, as it can lead to productive exchanges, as well as earlier and greater citation of published work (See The Effect of Open Access).
The journal/publisher is not responsible for subsequent uses of the work. It is the author's responsibility to bring an infringement action if so desired by the author.