Brain Tumor Radiotherapy Role and Variation
Keywords:
brain tumor, benign, malignant,radiotherapy,adjuvant, palliative.
Abstract
Objectives: We report our experiences of brain tumors management by surgery and radiotherapyWhether It has been used as adjuvant, radical or palliative therapy belonging to benign or malignant tumors over 2 years period at ENT,  neurosurgery and radiotherapy departments royal medical services.
Methods: We used a retrospective study design to review all brain tumor patients(benign, malignant or metastatic) operated in neurosurgical department and referred to radiotherapy after discussing each case in multidisciplinary clinic in 2018 and 2019. Patient files, radiological images computed tomography (CT) or magnetic resonance imaging (MRI) scans), histo-pathological reports and radiotherapy management plan were reviewed for patients.
Results: In total, 137 patients with brain tumor managed byradiotherapy 64 patients were metastatic, 37 patients high grad glioma, 12 patients atypical meningioma, 7 patients medulloblastoma, rest of cases discussed in the study  .
Conclusions: Radiotherapy has been fulfilling crucial part in the treatment of CNS tumors, where it has been implemented as adjuvant therapy or even being the solitary resort where surgery is inapplicable or used as palliative therapy in different regimens according to histopathology, performance status and different sites.
References
-https://www.intechopen.com/books/primary-intracranial-tumors/role-of-radiotherapy-in-high-grade-glioma
Role of Radiotherapy in High Grade Glioma
By Henrique Balloni
Submitted: May 3rd 2018Reviewed: August 14th 2018Published: March 13th 2019
DOI: 10.5772/intechopen.80923
-http://ar.iiarjournals.org/content/36/10/4985.full
Re-irradiation for Recurrent Primary Brain Tumors
-https://www.medscape.com/answers/1156552-165112/what-is-the-role-of-radiotherapy- What is the role of radiotherapy in the treatment of meningioma?
Updated: Nov 07, 2018 Author: Georges Haddad, MD; Chief Editor: Tarakad S Ramachandran, MBBS, MBA, MPH, FAAN, FACP, FAHA, FRCP, FRCPC, FRS, LRCP, MRCP, MRCS more...
-https://link.springer.com/chapter/10.1007/978-3-319-11274-9_19
Radiotherapy in Medulloblastoma
-https://effectivehealthcare.ahrq.gov/products/radiation-brain-metastases/protocol#1
Radiation Therapy for Brain Metastases: A Systematic Review, January 28, 2020
-https://www.intechopen.com/books/brain-and-spinal-tumors-primary-and-secondary/the-role-of-radiotherapy-in-the-treatment-of-primary-central-nervous-system-lymphomas
The Role of Radiotherapy in the Treatment of Primary Central Nervous System Lymphomas
By Meral Kurt, CandanDemirözAbakay and Ali Altay
Submitted: October 8th 2018Reviewed: January 15th 2019Published: February 21st 2019
DOI: 10.5772/intechopen.84432
-https://thejns.org/view/journals/j-neurosurg/73/4/article-p502.xml
The long-term side effects of radiation therapy for benign brain tumors in adults
Ossama Al-Mefty M.D. 1 , Jane E. Kersh
- Eric L. Chang • Paul D. Brown Simon S. Lo • Arjun Sahgal John H. Suh Editors. /Adult CNS Radiation Oncology.
-https://www.cancer.net/cancer-types/brain-tumor/types-treatment
Brain Tumor: Types of Treatment, Approved by the Cancer.Net Editorial Board, 01/2020
-Mark J. Amsbaugh; Catherine S. Kim. Brain Metastasis, ncbi.nlm.nih.gov/books/NBK470246
-https://www.ncbi.nlm.nih.gov/pmc/articles/PMC3656562/
Neuropathology of brain metastases
MelikePekmezci and Arie Perry*
-Adult CNS Radiation Oncology, Principles and Practice
Editors: Chang, E.L., Brown, P., Lo, S.S., Sahgal, A., Suh, J. (Eds.)
-Dosimetric comparison of five different techniques for craniospinal irradiation across 15 European centers: analysis on behalf of the SIOP-E-BTG (radiotherapy working group)
EnricaSeravalli,MirjamBosman,Yasmin Lassen-Ramshad,AnneVestergaard
-Radiation Oncology: A Question-Based Review 3rd Edition
by Borislav Hristov (Author), Steven H Lin MD PhD (Author), John P. Christodouleas MD MPH (Author) chapter 18
- Handbook of Evidence-Based Radiation Oncology
Editors: Hansen, Eric K., Roach III, Mack (Eds.) (17)
-Effects of radiotherapy with concomitant and adjuvant temozolomide versus radiotherapy alone on survival in glioblastoma in a randomised phase III study: 5-year analysis of the EORTC-NCIC trial
Roger Stupp*, Monika E. Hegi, Warren P. Mason, Martin J. van den Bent, Martin JB Taphoorn, Robert C. Janzer, Samuel K. Ludwin, Anouk Allgeier, Barbara Fisher, Karl Belanger, Peter Hau, Alba A. Brandes, Johanna Gijtenbeek, Christine Marosi, Charles J. Vecht, Karima Mokhtari, Pieter Wesseling, Salvador Villa, Elizabeth Eisenhauer, Thierry GorliaShow lessMichael Weller, Denis Lacombe, J. Gregory Cairncross, René Olivier Mirimanoff(14)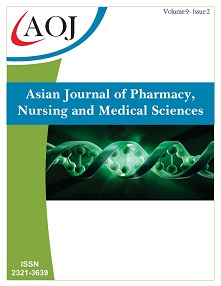 Downloads
How to Cite
Abu Nahlah, E. L. ., Aljubour, R. M., Abu Salma, Z. ., Lozi, R. A., Alkhawaldeh, H. M. ., Al-Hanaqta, M. M. ., & Al-Rawabdeh, S. . (2021). Brain Tumor Radiotherapy Role and Variation. Asian Journal of Pharmacy, Nursing and Medical Sciences, 9(2). https://doi.org/10.24203/ajpnms.v9i2.6574
License
Copyright (c) 2021 Eyad Lutfi Abu Nahlah, Raed M. Aljubour, Zuhair Abu Salma, Rakan A. Lozi, Hamzeh M. Alkhawaldeh, Motasem M. Al-Hanaqta, Sura Al-Rawabdeh
This work is licensed under a Creative Commons Attribution-NoDerivatives 4.0 International License.
Papers must be submitted on the understanding that they have not been published elsewhere (except in the form of an abstract or as part of a published lecture, review, or thesis) and are not currently under consideration by another journal published by any other publisher.
It is also the authors responsibility to ensure that the articles emanating from a particular source are submitted with the necessary approval.
The authors warrant that the paper is original and that he/she is the author of the paper, except for material that is clearly identified as to its original source, with permission notices from the copyright owners where required.
The authors ensure that all the references carefully and they are accurate in the text as well as in the list of references (and vice versa).
Authors retain copyright and grant the journal right of first publication with the work simultaneously licensed under a Attribution-NonCommercial 4.0 International that allows others to share the work with an acknowledgement of the work's authorship and initial publication in this journal.
Authors are able to enter into separate, additional contractual arrangements for the non-exclusive distribution of the journal's published version of the work (e.g., post it to an institutional repository or publish it in a book), with an acknowledgement of its initial publication in this journal.
Authors are permitted and encouraged to post their work online (e.g., in institutional repositories or on their website) prior to and during the submission process, as it can lead to productive exchanges, as well as earlier and greater citation of published work (See The Effect of Open Access).
The journal/publisher is not responsible for subsequent uses of the work. It is the author's responsibility to bring an infringement action if so desired by the author.