Epidemiological Profile of COVID-19 in Brazil and Worldwide
Keywords:
Sex, ethnicity, epidemiological profile, age groups, COVID-19
Abstract
Introduction: COVID-19, caused by the new coronavirus or SARSCoV-2, has a high capacity for dissemination, which brings about an emergency scenario in public health. It manifests itself in a multifaceted manner, with a great variability in the profile of the affected population, which may be associated with biological, social and economic factors.
Objective: To know the epidemiological profile of the population affected by COVID-19, in order to promote better assistance.
Methods: This is a literature review, starting in 2020, using the SciELO, PubMed, Google Scholar, DATASUS databases and the website of the Brazilian Institute of Geography and Statistics (IBGE).
Results: Studies show a higher prevalence of SARS-CoV-2 infection in men, in the age group after the fourth decade of life and among whites.
Discussion: The first studies showed a prevalence of coronavirus infection in males. One of the hypotheses drawn was that men present more cardiopulmonary diseases and smoke more. Another study shows that women's lower susceptibility to infection is due to the X chromosome and sex hormones, which are essential for the innate and adaptive immune response. As for the age group, most studies show a higher prevalence after the fourth decade of life, due to increased expression of angiotensin 2 receptors (ACE2), hormonal changes in aging and associated comorbidities.
Conclusion: Studies show with greater assertiveness a predominance of involvement by COVID-19 in males, individuals from the fourth decade of life and in whites. However, it is important to investigate the epidemiological profile in order to offer better assistance and prevention.
References
Kopel J, Perisetti A, Roghani A, et al. Racial and Gender-Based Differences in COVID-19. Front Public Health. 2020;8:418. PMID: 32850607; https://doi.org/10.3389/fpubh.2020.00418.
Wu D, Wu T, Liu Q, Yang Z. The SARS-CoV-2 outbreak: what we know. Int J Infect Dis. 2020;94:44-8. PMID: 32171952; https://doi.org/10.1016/j.ijid.2020.03.004.
Li LQ, Huang T, Wang YQ, et al. COVID-19 patients' clinical characteristics, discharge rate, and fatality rate of meta-analysis. J Med Virol. 2020;92(6):577-83. PMID: 32162702; https://doi.org/10.1002/jmv.25757.
Rothan HA, Byrareddy SN. The epidemiology and pathogenesis of coronavirus disease (COVID-19) outbreak. J Autoimmun. 2020;109:102433. PMID: 32113704; http://doi.org/10.1016/j.jaut.2020.102433.
Eder P, Łodyga M, Dobrowolska A, Rydzewska G, Kamhieh-Milz J. Addressing multiple gastroenterological aspects of COVID-19. Pol Arch Intern Me. 2020;130(5):420-30. PMID: 32356641; https://doi.org/10.20452/pamw.15332.
Mo P, Xing Y, Xiao Y, et al. Clinical characteristics of refractory COVID-19 pneumonia in Wuhan, China. Clin Infect Dis. 2020. PMID: 32173725; http://doi.org/10.1093/cid/ciaa270.
Xu K, Chen Y, Yuan J, et al. Factors associated with prolonged viral RNA shedding in patients with Coronavirus Disease 2019 (COVID-19). Clin Infect Dis. 2020;71(15):799-806. PMID: 32271376; http://doi.org/10.1093/cid/ciaa351.
Korean Society of Infectious Diseases; Korean Society of Pediatric Infectious Diseases; Korean Society of Epidemiology; Korean Society for Antimicrobial Therapy; Korean Society for Healthcare-associated Infection Control and Prevention; Korea Centers for Disease Control and Prevention. Report on the epidemiological features of coronavirus disease 2019 (COVID-19) outbreak in the Republic of Korea from January 19 to March 2, 2020. J Korean Med Sci. 2020;35(10):e112. PMID: 32174069; http://doi.org/10.3346/jkms.2020.35.e112.
Jia J, Hu X, Yang F, et al. Epidemiological Characteristics on the Clustering Nature of COVID-19 in Qingdao City, 2020: A Descriptive Analysis. Disaster Med Public Health Prep. 2020;14(5):643-7. PMID: 32228732; https://doi.org/10.1017/dmp.2020.59.
Mizumoto K, Kagaya K, Zarebski A, Chowell G. Estimating the asymptomatic proportion of coronavirus disease 2019 (COVID-19) cases on board the Diamond Princess cruise ship, Yokohama, Japan, 2020. Euro Surveill. 2020;25(10):2000180. PMID: 32183930; http://doi.org/10.2807/1560-7917.ES.2020.25.10.2000180.
Duarte MMS, Haslett MIC, Freitas LJA, et al. Descrição dos casos hospitalizados pela COVID-19 em profissionais de saúde nas primeiras nove semanas da pandemia, Brasil, 2020 [Description of COVID-19 hospitalized health worker cases in the first nine weeks of the pandemic, Brazil, 2020]. Epidemiol Serv Saude. 2020;29(5):e2020277. PMID: 32997079; http://dx.doi.org/10.1590/s1679-49742020000500011.
TabNet Tecnologia DATASUS. COVID19 Síndrome Respiratória Aguda Grave (SRAG). 2020. Available from: http://tabnet.saude.prefeitura.sp.gov.br/cgi/deftohtm3.exe?secretarias/saude/TABNET/RSRAG/sragh.def. Accessed in 2021 (Feb 15).
Garg S, Kim L, Whitaker M, et al. Hospitalization rates and characteristics of patients hospitalized with laboratory-confirmed coronavirus disease 2019 − COVID-NET, 14 states, March 1-30, 2020. MMWR Morb Mortal Weekly Rep. 2020;69(15):458-64. PMID: 32298251; https://doi.org/10.15585/mmwr.mm6915e3.
Scully EP, Haverfield J, Ursin RL, Tannenbaum C, Klein SL. Considering how biological sex impacts immune responses and COVID-19 outcomes. Nat Rev Immunol. 2020;20(7):442-7. PMID: 32528136; https://doi.org/10.1038/s41577-020-0348-8.
ten-Caten F, Gonzalez-Dias P, Castro I, et al. In-depth Analysis of Laboratory Parameters Reveals the Interplay Between Sex, Age and Systemic Inflammation in Individuals with COVID-19. medRxiv. 2020. https://doi.org/10.1101/2020.08.07.20170043.
Azevedo A. IBGE − Educa Jovens. 2020. Available from: https://educa.ibge.gov.br/jovens/conheca-o-brasil/populacao/18319-cor-ouraca.html. Accessed in 2021 (Feb 05).
Shah M, Sachdeva M, Dodiuk-Gad R. COVID-19 and racial disparities. J Am Acad Dermatol. 2020;83(1):e35. PMID: 32305444; https://doi.org/10.1016/j.jaad.2020.04.046.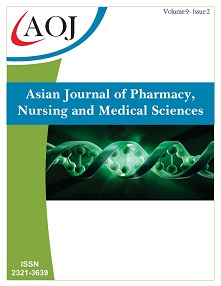 Downloads
How to Cite
de Freitas, C., Calanca, G. ., Ilias, E. J. ., & Bezerra, A. S. (2021). Epidemiological Profile of COVID-19 in Brazil and Worldwide. Asian Journal of Pharmacy, Nursing and Medical Sciences, 9(2). https://doi.org/10.24203/ajpnms.v9i2.6561
License
Copyright (c) 2021 Carla de Freitas, Gabriela Calanca, Elias Jirjoss Ilias; Arthur Sousa Bezerra
This work is licensed under a Creative Commons Attribution-NoDerivatives 4.0 International License.
Papers must be submitted on the understanding that they have not been published elsewhere (except in the form of an abstract or as part of a published lecture, review, or thesis) and are not currently under consideration by another journal published by any other publisher.
It is also the authors responsibility to ensure that the articles emanating from a particular source are submitted with the necessary approval.
The authors warrant that the paper is original and that he/she is the author of the paper, except for material that is clearly identified as to its original source, with permission notices from the copyright owners where required.
The authors ensure that all the references carefully and they are accurate in the text as well as in the list of references (and vice versa).
Authors retain copyright and grant the journal right of first publication with the work simultaneously licensed under a Attribution-NonCommercial 4.0 International that allows others to share the work with an acknowledgement of the work's authorship and initial publication in this journal.
Authors are able to enter into separate, additional contractual arrangements for the non-exclusive distribution of the journal's published version of the work (e.g., post it to an institutional repository or publish it in a book), with an acknowledgement of its initial publication in this journal.
Authors are permitted and encouraged to post their work online (e.g., in institutional repositories or on their website) prior to and during the submission process, as it can lead to productive exchanges, as well as earlier and greater citation of published work (See The Effect of Open Access).
The journal/publisher is not responsible for subsequent uses of the work. It is the author's responsibility to bring an infringement action if so desired by the author.