Bronchospasm during Anesthesia Induction in A Patient with Undiagnosed Asthma
Keywords:
Bronchospasm, Asthma, Allergic rhinitis
Abstract
In large study of 9287 children undergoing general anesthesia, the incidence of perioperative bronchospasm is 2.1 percent. During anesthesia in patients with well-controlled asthma, airway complications such as bronchospasm are rare. However, poorly controlled asthma is closely related to the pathophysiologic mechanisms of nonallergic and allergic bronchospasm. More than 80% of asthma patients have allergic rhinitis, and 10-40% of allergic rhinitis patients have asthma. 
We report a case of a 10-year-old male with undiagnosed asthma who developed bronchospasm during induction of anesthesia. This patient had been treated for allergic rhinitis before surgery. Unexpected bronchospasm occurred immediately after induction of anesthesia and was treated with salbutamol nebulizer and intravenous dexamethasone. In addition, a massive hypotension-suspected anaphylactic reaction occurred and was treated with intravenous epinephrine, after which airway pressure and vital signs improved. For safety, the operation was canceled, anesthesia was discontinued, and the patient was discharged without specific complications. Asthma was diagnosed upon further evaluation two weeks after discharge.
Because this patient had been treated for allergic rhinitis before surgery, asthma should have been diagnosed before surgery. If asthma symptoms before anesthesia were well-controlled using a bronchodilator, steroid, etc., bronchospasm could have been prevented during anesthesia in the current case.
This case suggests that, when possible, asthma should be diagnosed before surgery in allergic rhinitis patients. This case also suggests that anesthesia should be performed after good control of asthma symptoms before surgery to prevent life-threatening perioperative events.
References
. Brozek JL, Bousquet J, Agache I, et al. Allergic Rhinitis and its Impact on Asthma (ARIA) guidelines-2016 revision. J Allergy Clin Immunol 2017; 140: 950-8.
. Dewachter P, Mouton-Faivre C, Emala CW, Beloucif S. Case scenario: bronchospasm during anesthetic induction. Anesthesiology 2011; 114: 1200-10.
. Ungern-Sternberg BR, Regli A.Anesthesia for the child with asthma or recurrent wheezing/ https://www.uptodate.com/contents/anesthesia-for-the-child-with-asthma-or-recurrent-wheezing.
. Auroy Y, Benhamou D, Pequignot F, Bovet M, Jougla E, Lienhart A. Mortality related to anaesthesia in France: analysis of deaths related to airway complications. Anaesthesia 2009; 64: 366-70.
. Liccardi G, Salzillo A, De Blasio F, D'Amato G. Control of asthma for reducing the risk of bronchospasm in asthmatics undergoing general anesthesia and/or intravascular administration of radiographic contrast media. Curr Med Res Opin 2009; 25: 1621–30.
. Sweitzer BJ, Smetana GW. Identification and evaluation of the patient with lung disease. Anesthesiol Clin 2009; 27: 673– 86
. Westhorpe RN, Ludbrook GL, Helps SC. Crisis management during anaesthesia: Bronchospasm. Qual Saf Health Care 2005; 14: e7.
. Fisher MM, Ramakrishnan N, Doig G, Rose M, Baldo B. The investigation of bronchospasm during induction of anaesthesia. Acta Anaesthesiol Scand 2009; 53: 1006-11.
. Laxenaire MC, Mertes PM, Groupe d'Etudes des Reactions Anaphylactoides P. Anaphylaxis during anaesthesia. Results of a two-year survey in France. Br J Anaesth 2001; 87: 549-58.
. Dewachter P, Mouton-Faivre C, Emala CW. Anaphylaxis and anesthesia: controversies and new insights. Anesthesiology 2009; 111: 1141-50.
. Morimoto Y, Satake S, Kamitani A, et al. Rocuronium anaphylaxis in a 7-year-old boy during the induction of anesthesia. Immunol Med 2018; 41: 85-8.
. Doherty GM, Chisakuta A, Crean P, Shields MD. Anesthesia and the child with asthma. Paediatr Anaesth 2005; 15: 446-54.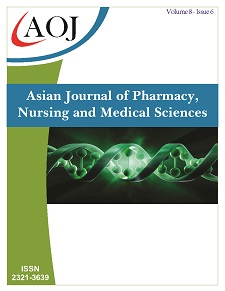 Downloads
How to Cite
Kim, B. S., & Choi, J. C. (2020). Bronchospasm during Anesthesia Induction in A Patient with Undiagnosed Asthma. Asian Journal of Pharmacy, Nursing and Medical Sciences, 8(6). https://doi.org/10.24203/ajpnms.v8i6.6417
License
Copyright (c) 2020 Bo Sung Kim, Jae Chan Choi
This work is licensed under a Creative Commons Attribution-NoDerivatives 4.0 International License.
Papers must be submitted on the understanding that they have not been published elsewhere (except in the form of an abstract or as part of a published lecture, review, or thesis) and are not currently under consideration by another journal published by any other publisher.
It is also the authors responsibility to ensure that the articles emanating from a particular source are submitted with the necessary approval.
The authors warrant that the paper is original and that he/she is the author of the paper, except for material that is clearly identified as to its original source, with permission notices from the copyright owners where required.
The authors ensure that all the references carefully and they are accurate in the text as well as in the list of references (and vice versa).
Authors retain copyright and grant the journal right of first publication with the work simultaneously licensed under a Attribution-NonCommercial 4.0 International that allows others to share the work with an acknowledgement of the work's authorship and initial publication in this journal.
Authors are able to enter into separate, additional contractual arrangements for the non-exclusive distribution of the journal's published version of the work (e.g., post it to an institutional repository or publish it in a book), with an acknowledgement of its initial publication in this journal.
Authors are permitted and encouraged to post their work online (e.g., in institutional repositories or on their website) prior to and during the submission process, as it can lead to productive exchanges, as well as earlier and greater citation of published work (See The Effect of Open Access).
The journal/publisher is not responsible for subsequent uses of the work. It is the author's responsibility to bring an infringement action if so desired by the author.