Out-of- Field Teaching: The Bane of Christian Religious Education in Senior High Schools
Keywords:
out-of-field, strategies, resources, management, and teaching
Abstract
This study assessed the problem of out-of-field teaching in the Berekum Municipality of Ghana. The convergent parallel design premised on the mixed method approach was employed to collect data from 20 teachers who hold different degrees instead of Bachelor of Education in Religious Education and are teaching Christian Religious Studies in Senior High Schools in the Berekum Municipality. Questionnaire and observation protocols were used to gather data. The teachers were observed twice in their classrooms during delivery. Data was analysed through the computation of frequencies and percentages and narrative reporting of the field notes. Three areas were assessed namely their capacity to use appropriate instructional strategies, resources, as well as classroom management capabilities. It was found that teachers used teacher-cantered methods of teaching. Their teaching was dominated by the use of the lecture method.  Most of the teachers narrated bible stories whiles students listen without any interactions. Teachers failed to use appropriate instructional resources in the classroom. Most of them used textbooks and bibles. Students were made to read bible verses turn by turn whiles teachers explain the concepts to them. Their classroom management was good. Teachers attempted to motivate their students to answer the few questions that were asked during the evaluation of the lessons. It is recommended that the Ghana Education Service should organise in-service training for the teachers to sharpen their skills in teaching. Teachers are encouraged to do teacher education programmes and teacher recruitment should be based on professional qualifications.
References
Aina, J. K., & Olanipekun, S. S. (2015). A review of teacher self-efficacy, pedagogical content knowledge and out-of-field teaching: Focusing on Nigerian teachers. International Journal of Elementary Education, 4(3), 80-85.
Allen, M. (2003). Eight questions on teacher preparation: What does the research say? Denver, CO: Education Commission of the States.
Awuah-Nyamekye, S. (2010). Religious education in a democratic state: The case of Ghana. Cell, 233, 244-308.
Conant, J. (1963). The education of American teachers. New York: McGraw-Hill.
Du Plessis, A., Carroll, A., & Gillies, R. M. (2015). Understanding the lived experiences of novice out-of-field teachers in relation to school leadership practices. Asia-Pacific Journal of Teacher Education, 43(1), 4-21.
Du Plessis, D. E (2013) Understanding the out-of-field teaching experience. Unpublished doctoral dissertation, University of Queensland.
Goldhaber, D. D., & Brewer, D. J. (2003). Does teacher certification matter? High school teacher certification status and student achievement. Education Evaluation and Policy Analysis, 22, 129-145.
Ingersoll, R. (1998). The problem of out-of-field teaching. Retrieved from http://repository.upenn.edu/gsepubs/137
Ingersoll, R. M. (1998). The problem of out-of-field teaching. The Phi Delta Kappan, 79(10), 773-776.
Ingersoll, R. M. (1999). The problem of under qualified teachers in American secondary schools. Educational Researcher, 28(2), 26-37.
Ingersoll, R. M. (2002). Out-of-field teaching, educational inequality, and the organization of schools: An exploratory analysis. Retrieved from http://depts. James washington.edu.pdf
Kochhar, S.K., (1991). The teaching of social studies. New Delhi: Sterling Publishers Private Ltd.
Lockheed, M.E., (1991). Improving primary education in developing countries. London: Oxford University Press.
Mensah, R. O., Acquah, A., Frimpong, A., & Babah, P. A. (2020). Towards improving the quality of basic education in Ghana. Teacher licensure and matters arising: Challenges and the way forward. Journal of Education and Social Policy, 7(3), 117-127.
Mohamedbhai, G. (2014). Massification in higher education institutions in Africa: Causes, consequences and responses. International Journal of African Higher Education, 1(1), 1-13.
Shanker, A. (1985). About education: Education's dirty little secret. Retrieved from https://www.nytimes.com
Shanker, A. (1985). The making of a profession. American Educator: The Professional Journal of the American Federation of Teachers, 9(3), 10.
Tuimur, N. H. & Chemwei, B. (2015). Availability and use of instructional materials in the teaching of conflict and conflict resolution in primary schools in Nandi North district, kenya International Journal of Education and Practice, 3(6): 224-234 available online at http://pakinsight.com/?ic=journal&journal=61
U.S. Department of Education, Office of Special Education Programs. (2004). Individuals With Disabilities Education Act (IDEA). Washington, DC: Author.
Weldon, P. R (2016). Out-of-field teaching in Australian secondary schools. Australia: Australian Council for Educational Research.
Yeigh, T. (2008). Quality teaching and professional learning: uncritical reflections of a critical friend. Australian Journal of Teacher Education (Online), 33(2), 1-15.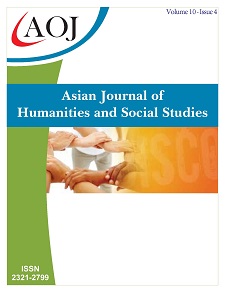 Downloads
How to Cite
Owusu, M., & Mensah, E. (2022). Out-of- Field Teaching: The Bane of Christian Religious Education in Senior High Schools. Asian Journal of Humanities and Social Studies, 10(4). https://doi.org/10.24203/ajhss.v10i4.7032
License
Copyright (c) 2022 Martin Owusu, Eric Mensah
This work is licensed under a Creative Commons Attribution-NonCommercial 4.0 International License.
Papers must be submitted on the understanding that they have not been published elsewhere (except in the form of an abstract or as part of a published lecture, review, or thesis) and are not currently under consideration by another journal published by any other publisher.
It is also the authors responsibility to ensure that the articles emanating from a particular source are submitted with the necessary approval.
The authors warrant that the paper is original and that he/she is the author of the paper, except for material that is clearly identified as to its original source, with permission notices from the copyright owners where required.
The authors ensure that all the references carefully and they are accurate in the text as well as in the list of references (and vice versa).
Authors retain copyright and grant the journal right of first publication with the work simultaneously licensed under a Attribution-NonCommercial 4.0 International that allows others to share the work with an acknowledgement of the work's authorship and initial publication in this journal.
Authors are able to enter into separate, additional contractual arrangements for the non-exclusive distribution of the journal's published version of the work (e.g., post it to an institutional repository or publish it in a book), with an acknowledgement of its initial publication in this journal.
Authors are permitted and encouraged to post their work online (e.g., in institutional repositories or on their website) prior to and during the submission process, as it can lead to productive exchanges, as well as earlier and greater citation of published work (See The Effect of Open Access).
The journal/publisher is not responsible for subsequent uses of the work. It is the author's responsibility to bring an infringement action if so desired by the author.