Improving Students' Reading Comprehension Skills through Short Stories in Higher Education Institutions
Keywords:
reading comprehension, improvement, the short story, reading skills
Abstract
The purpose of the study was to examine the role of short stories on students' reading comprehension. To achieve its objective, this Quasi-Experimental study utilized pre-test and post-test design. The participants were classified into group 1, the Experimental Group, and Group 2, the control group. Data were collected through the pre-test and post-test reading tests. Then, the data were analyzed using SPSS 24, based on average scores, standard deviation, descriptive statistics, and t-tests for pre and post-test analysis. The findings of the study showed that students who learned to read through the technique of using carefully selected short stories improved their reading comprehension and reading skills more than students that studied with the other approach of using the national instructional material. Based on the study's findings, it has been determined that learning to read with the help of short stories improves students' reading comprehension. The literary texts helped in students' learning strategies, in students' attention, and the improvement of students' reading skills that indirectly improved their reading comprehension.
References
Ali, S. (1993). The reader-response approach: An alternative for teaching literature in a second language. Journal of Reading, 37(4), 288–296.
Brumfit, C., & Carter, R. (Eds.). (1986). Literature and language teaching. Oxford University Press.
Carter, R., & Simpson, P. (2003). Language, Discourse and Literature: An Introductory Reader in Discourse Stylistics. http://public.ebookcentral.proquest.com/choice/publicfullrecord.aspx?p=198361
Convenience sampling. (2022). In Wikipedia. https://en.wikipedia.org/w/index.php?title=Convenience_sampling&oldid=1100752769
El-Helou, H. A. R. (2010). Difficulties facing English Teachers in teaching Literature in English for Palestine grade twelve textbook.
Hişmanoğlu, M. (2005). Teaching English through literature. Journal of Language and Linguistic Studies, 1(1), 53–66.
Hussain, Z. (2020, April 26). The trend of English Language. SharingisCaring134. https://medium.com/sharingiscaring134/the-trend-of-english-language-b5ca514f6ec5
Işikli, C., & Tarakci̇oglu, A. Ö. (2017). Investigating problems of English literature teaching to EFL high school students in Turkey with focus on language proficiency. Journal of Language and Linguistic Studies, 13(2), 82–95. https://dergipark.org.tr/en/pub/jlls/issue/36120/405598
Kemmis, S., McTaggart, R., & Nixon, R. (2014). The action research planner: Doing critical participatory action research. Springer.
Khatib, M., & Nasrollahi, A. (2012). Enhancing reading comprehension through short stories in Iranian EFL learners. Theory and Practice in Language Studies, 2(2), 240.
Lazar, G. (1993). Literature and language teaching: A guide for teachers and trainers. Cambridge University Press.
O'Byrne, W. I. (2016). Four steps to conducting action research in the classroom. Ian O'Byrne.
Patrikis, P. C. (2008). Reading between the lines: Perspectives on foreign language literacy. Yale University Press.
Rashid, R. A., Vethamani, M. E., & Rahman, S. B. A. (2010). Approaches Employed by Teachers in Teaching Literature to Less Proficient Students in Form 1 and Form 2. English Language Teaching, 3(4), 87–99.
Samuels, P., & Gilchrist, M. (2014). Paired Samples t-test.
Schmidt, K. (2002). Classroom Action Research: A Case Study Assessing Students' Perceptions and Learning Outcomes of Classroom Teaching Versus On-line Teaching. Journal of STEM Teacher Education, 40(1). https://ir.library.illinoisstate.edu/jste/vol40/iss1/4
Violetta-Irene, K. (2015). The use of literature in the language classroom: Methods and aims. International Journal of Information and Education Technology, 5(1), 74.
Yeager, K. (n.d.). LibGuides: SPSS Tutorials: Paired Samples t Test. Retrieved August 22, 2022, from https://libguides.library.kent.edu/SPSS/PairedSamplestTest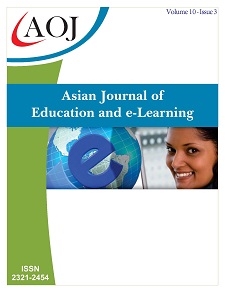 Downloads
How to Cite
Teferra, Y. B. (2022). Improving Students' Reading Comprehension Skills through Short Stories in Higher Education Institutions . Asian Journal of Education and E-Learning, 10(3). https://doi.org/10.24203/ajeel.v10i3.7059
License
Copyright (c) 2022 Yitagesu Belete Teferra
This work is licensed under a Creative Commons Attribution-NonCommercial 4.0 International License.
Papers must be submitted on the understanding that they have not been published elsewhere (except in the form of an abstract or as part of a published lecture, review, or thesis) and are not currently under consideration by another journal published by any other publisher.
It is also the authors responsibility to ensure that the articles emanating from a particular source are submitted with the necessary approval.
The authors warrant that the paper is original and that he/she is the author of the paper, except for material that is clearly identified as to its original source, with permission notices from the copyright owners where required.
The authors ensure that all the references carefully and they are accurate in the text as well as in the list of references (and vice versa).
Authors retain copyright and grant the journal right of first publication with the work simultaneously licensed under a Attribution-NonCommercial 4.0 International that allows others to share the work with an acknowledgement of the work's authorship and initial publication in this journal.
Authors are able to enter into separate, additional contractual arrangements for the non-exclusive distribution of the journal's published version of the work (e.g., post it to an institutional repository or publish it in a book), with an acknowledgement of its initial publication in this journal.
Authors are permitted and encouraged to post their work online (e.g., in institutional repositories or on their website) prior to and during the submission process, as it can lead to productive exchanges, as well as earlier and greater citation of published work (See The Effect of Open Access).
The journal/publisher is not responsible for subsequent uses of the work. It is the author's responsibility to bring an infringement action if so desired by the author.