Nations Quest for Peace and Alignment to the New Normal: Any Roles for the Marketing Profession?
Keywords:
Mega Corporations, Nigeria, Peace, Peace Marketing Mix
Abstract
Peace is one of the most desirable ingredients required for the existence of every human community, and the need for it has quadrupled as a result of the multiple challenges facing the world today. These challenges have further been exacerbated by the need to adjust to the new normal in our contemporary society which nexuses with business operations. The chances for peaceful societies have been fatally sacrificed at the altar of greed, selfish inclinations and the desires for self-aggrandizement of man; and these have made peace a scare commodity. The absence of peace has been linked with catastrophic effects, including business turbulence; which is the reason why deliberate efforts are constantly made by individuals, governments and religious institutions to foster peace. Sadly, the outcomes of these initiatives have not been much to be desired hence the need for a paradigm shift. This paper examined extant literature on the place of the marketing profession in nations' quest for peace. Peace like every commodity can be marketed; hence the argument of this paper that the marketing mix variables of product, price, place, promotion, preach, propagate and patronize readily find application in marketing peace. This paper concluded on the note that the clamor for a paradigm shift in the quest for peace in nations is in the right direction. More so, such shift must include the involvement of marketing professionals into the army of global peace seekers. Therefore, this paper recommends that national governments should promote matters that foster unity, develop a common national value and deploy social marketing programs. Furthermore, corporate organisations should consider peace marketing as a worthy cause to embrace, and firms should be willing to finance peace building activities as well as form coalitions of mega corporations for the promotion and protection of global peace. 
References
Huda, K.N. Can peace be the leading purpose of modern marketing? Journal of Marketing Advances and Practices vol. 2 no 2 pp 19- 32 2020
Sambanis, N.,and Elbadawi, I., How much war will we see? Explaining the prevalence of civil wars. Journal of Conflict Resolution, vol. 46. no3. pp.307-334. 2002
.[3] Galtung, J.. Violence, peace, and peace research. Journal of Peace Research, vol 6 no 3.pp 167-191. 1969.
Haas, F. Challenging the peace building paradigm: From ceasefire capitalism to shared prosperity through tailor made positive peace initiatives. [Blog Post]. Retrieved from: https://rotarypeacechula.wordpress.com/2019/04/02/ challenging-the-peacebuilding-paradigm-from-ceasefire-capitalism-to-shared-prosperity-through-tailormade-positive-peace-initiatives
Gerson, A.. Peace building: The private sector's role. American Journal of International Law,vol. 95 no.1 pp 102-119. 2001.
Woolf, L. Message from the President Marketing Peace? [Blog Post]. Retrieved from: http://faculty.webster.edu/woolflm/MarketingPeace.pdf 2006.
Nedelea, A. M., and Nedelea, M. O. (2015). Peace marketing. Ecoforum Journal, vol.4 no.2 pp. 12-21
]McLeod,S.,.Maslow`s Hierarchy of Needs. Available at: http://www.simplypsychology.org/maslow.html [Accessed 10 February 2017] 2016
Chifu, Building Peaceful World through Marketing Practices Management Development, vol. 29 nos3&4 July-December: pp 24-43 2006.
D'Souza, J.. Greed: Crises, causes, and solutions. International Journal of Humanities and Social Science, vol.5 no.7 pp, 1-6. 2015.
Collier, P.. Breaking the conflict trap: Civil war and development policy. World Bank Publications. NJ 2003.
United Nations, Fifth Committee Approves $6.51 Billion for 13 Peacekeeping Operations in 2019/20, Joint Management of Active Missions' Cash Balances, as Resumed Session Ends. Retrieved December 4, 2020, from: https://www.un.org/ press/en/2019/gaab4328.doc.htm 2019.
American Marketing Association (AMA) Definition of marketing Retrieved from http://www.ama.org /About/Pages/Definition-of-marketing.aspx. 2016.
Kotler, P. The relationship between marketing and capitalism. Retrieved from: http://www.marketingjournal.org/the-relationship-between-marketing-and-capitalism-phil-kotler/ 2016..
Kotler, P., and Zaltman, G. Social marketing: An approach to planned social change. Journal of Marketing, vol.35 no.3 pp. 3-12. 1971.
Goswami, P. (2017). Marketing Peace: Deconstructing Christian-Muslim Narratives of God, Salvation and Terrorism, Cambridge scholars Publishing, UK.
Nedelea, A. M.,and Nedelea, M. O.. Marketing peace for social transformation and global prosperity. IGI Global. UK. 2018.
Pavlát, V., and Knihová, L. Peace marketing opportunities and prospects: The case of the Czech Republic. In Marketing Peace for Social Transformation and Global Prosperity (pp. 1-21). IGI Global. UK 2019.
Brîndușa-Mariana, B. Peace Marketing Amfiteatru Economic, Journal, The Bucharest University of Economic Studies, Bucharest, vol. 19, no.45 pp 600-612 2017.
Gruener, S.. Marketing for peace – Why a marketing strategy can help the UN build and sustain peace. [Blog Post]. Retrieved from: https://www.daghammarskjold.se/blog1/ 2016
Madu,J.E and Ogbuji, C.N. Application of social marketing strategies for overcoming the incidence of terrorists activities in Nigeria: A theoretical approach In Proceedings of the 12th annual conference of The Academy of Management Nigeria Nile University Abuja. October 22-25, 546-558 . 2018.
Goldsworthy, G.. Preaching the whole bible as Christian scripture: The Application of biblical theology to expository preaching. Wm. B. Eerdmans Publishing. Amsterdam 2000.
Bobrovniko, V.. Islamophobia and religious legislation in post-Soviet Daghestan. In Report of the OSCE Conference on the Role of Freedom of Religion and Belief in a Democratic Society: Searching for Ways to Combat Terrorism and Extremism (pp. 66-84). 2002.
Goswami, P.. Resisting indoctrination to violence by religion-based terror groups with social marketing. [Blog Post]. Retrieved from: https://papers.ssrn.com/sol3/papers.cfm?abstract_id=1577034 2009.
Datta D. U. K., Building Peaceful World through Marketing Practices Management Development, vol.29 nos3&4 July-December pp 24-43 2015.
United Nations Alliance of Civilizations UNAOC and BMW Group Announce the 10 Finalists of the 2019 Intercultural Innovation Award. https://www.unaoc.org/2019/12/unaoc-and-bmw-group-announce-the-10-finalists-of-the-2019-intercultural-innovation-award/ 2019.
Grim, B. J. Four ways businesses can help to build peace, World Economic Forum. Retrieved from: https://www.weforum.org/agenda/2014/10/ businesses-help-build-peace/ 2014.
Varadarajan, P. R., and Menon, A. Cause-related marketing: A coalignment of marketing strategy and corporate strategy and corporate philanthropy. Journal of Marketing, vol. 52 no3 pp 58–74. 1988.
Beise-Zee,P. Cause Related Marketing Retrieved from DOI: 10.1007/978-3-642-28036-8_551 2013.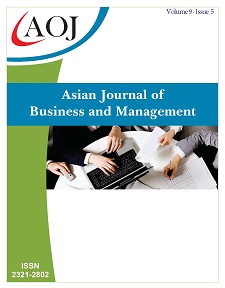 Downloads
How to Cite
Ewanlen, D. O., & Gabriel, J. M. O. (2021). Nations Quest for Peace and Alignment to the New Normal: Any Roles for the Marketing Profession?. Asian Journal of Business and Management, 9(5). https://doi.org/10.24203/ajbm.v9i5.6840
License
Copyright (c) 2021 Asian Journal of Business and Management
This work is licensed under a Creative Commons Attribution-NoDerivatives 4.0 International License.
Papers must be submitted on the understanding that they have not been published elsewhere (except in the form of an abstract or as part of a published lecture, review, or thesis) and are not currently under consideration by another journal published by any other publisher.
It is also the authors responsibility to ensure that the articles emanating from a particular source are submitted with the necessary approval.
The authors warrant that the paper is original and that he/she is the author of the paper, except for material that is clearly identified as to its original source, with permission notices from the copyright owners where required.
The authors ensure that all the references carefully and they are accurate in the text as well as in the list of references (and vice versa).
Authors retain copyright and grant the journal right of first publication with the work simultaneously licensed under a Creative Commons Attribution License that allows others to share the work with an acknowledgement of the work's authorship and initial publication in this journal.
Authors are able to enter into separate, additional contractual arrangements for the non-exclusive distribution of the journal's published version of the work (e.g., post it to an institutional repository or publish it in a book), with an acknowledgement of its initial publication in this journal.
Authors are permitted and encouraged to post their work online (e.g., in institutional repositories or on their website) prior to and during the submission process, as it can lead to productive exchanges, as well as earlier and greater citation of published work (See The Effect of Open Access).
The journal/publisher is not responsible for subsequent uses of the work. It is the author's responsibility to bring an infringement action if so desired by the author.