Assessment of Entrepreneurial Traits and Intention among Undergraduate Students at Catholic University of Health and Allied sciences -Mwanza, Tanzania
Keywords:
entrepreneurship, traits, intention, undergraduate students
Abstract
Entrepreneurship of young graduates is fundamental in mitigating the challenge of unemployment, while the role of universities is considered to be very important in developing entrepreneurial behavior. Thus, the present study aims to assess entrepreneurial traits and intention among undergraduate students at Catholic University of Health and Allied sciences -Mwanza, Tanzania. The cross-sectional descriptive study was conducted in May 2021 at Catholic University of Health and Allied Sciences. Three hundred and thirty-one (331) undergraduates were selected by stratified random sampling. Pre-tested semi-structured questionnaire was used to collect primary data. Data were fed into Microsoft excel and then exported to STATA version 14 for analysis and data were presented in frequencies, percentages and mean. The level of entrepreneurial traits of the students was moderate with overall mean of 3.6. Majority (285, 86.1%) of students thought of themselves as capable of opening and sustaining a business to success, reflecting positive feasibility and perceived themselves as people who willingly act on their individual decisions.The major motivating factor for entrepreneurial intention indicated by the respondents was "preference for personal creativity" (295, 89.1%). However, the major perceived barrier to starting their own businesses indicated by the respondents was "lack of funds to start" (268, 90%). This study showed that there was overall moderate level of entrepreneurial traits among the undergraduate students. The findings have shown that there is high intention and that students are interested to become entrepreneurs.
References
Achchuthan , S., Nimalathasan, B. (2012) 'Entrepreneurial motivation and selfemployment intention: case study on management undergraduates of university of Jaffna. In C.N. Wickramasinghe & W.M. madururupperuma (Eds), Serious in Management Business( Economics and Entrepreneurship). University of Kell'.
Adu, I.N., Boakye, K.O., Suleman, A.-R., Bingab, B.B.B. (2020) 'Exploring the factors that mediate the relationship between entrepreneurial education and entrepreneurial intentions among undergraduate students in Ghana. Asia Pacific Journal of Innovation and Entrepreneurship, 14 (2), 215-28. https://doi.org/10.1108/APJIE-07-2019-0052'.
Afolabi, M. O., Ola-Olorun, O. J., Abereijo, I. O.,Uchegbu, V. I. (2016) 'Assessment of Entrepreneurial Traits and Intention of Pharmacy Students in Obafemi Awolowo University, Ile-Ife, Nigeria. Journal of Pharmaceutical Research International, 10(2), 1-11. doi: 10.9734/BJPR/2016/22855.'
Ambad, S.N.A, Damit, D.H.D. (2016) 'Determinants of Entrepreneurial Intention Among Undergraduate Students in Malaysia. Procedia Economics and Finance, 37, 108-114'.
Anwar, I., Saleem, I. (2019) 'Exploring entrepreneurial characteristics among university students: an evidence from India. Asia Pacific Journal of Innovation and Entrepreneurship, 13 (3), 282-95. https://doi.org/10.1108/APJIE-07-2018-0044'.
Bartelink VHM, Zay Ya K, Guldbrandsson K, Bremberg S (2020) 'Unemployment among young people and mental health: A systematic review. Scand J Public Health, 48(5),544-58. doi: 10.1177/1403494819852847'.
Benz, M., Frey, B. (2008) 'Being independent is a great thing: Subjective evaluations of selfemployment and hierarchy. Economica, 75(298),362-83.'
Bergner S. (2020) 'Being Smart Is Not Enough: Personality Traits and Vocational Interests Incrementally Predict Intention, Status and Success of Leaders and Entrepreneurs Beyond Cognitive Ability. Front Psychol, 11,204. doi: 10.3389/fpsyg.2020.00204'.
Cadar, O., Badulescu, D. (2015) 'Entrepreneur, Entrepreneurship and Intrapreneurship. A Literature Review. Munich Personal RePEc Archive Paper Series, Paper No. 78871'.
Cardoso, A.,Cairrão, A.,Petrova,D., Jorge,F. (2018) 'Assessment of the Effectiveness of the Entrepreneurship Classes in the Bulgarian Secondary Education. Journal of Entrepreneurship Education, 21(2), 1-21'.
Chhabra, S., Raghunathan, R., Rao, N.V.M. (2020) '"The antecedents of entrepreneurial intention among women entrepreneurs in India", Asia Pacific Journal of Innovation and Entrepreneurship, 14 (1), 76-92.'
Çolakoğlu, N., Gözükara, I. (2016) 'A Comparison Study on Personality Traits Based on the Attitudes of University Students toward Entrepreneurship. Procedia - Social and Behavioral Sciences, 229, 133-40. https://doi.org/10.1016/j.sbspro.2016.07.122'.
Devonish, D., Alleyne, P., Charles-Soverall,W., Marshall, A.Y., Pounder, P. (2010) 'Explaining entrepreneurial intentions in the Caribbean. International Journal of Entrepreneurial Behavior & Research, 16 (2), 149-71.'
Dissanayake, D.M.N.S.W., (2013) 'The Impact of Perceived Desirability and Perceived Feasibility on Entrepreneurial Intention among Undergraduate Students in Sri Lanka: An Extended Model. The Kelaniya Journal of Management, 2(1), 39-57'.
Douglas, E., Shepherd, D. (2002) 'Self-Employment as a Career Choice: Attitudes, Entrepreneurial Intentions, and Utility Maximization."Entrepreneurship Theory and Practice.,26(3),81–90.'
Douglas, E.J., Fitzsimmons, J.R. (2005) 'Entrepreneurial Intentions towards Individual vs. Corporate Entrepreneurship. SEAANZ 2005 Conference, Armidale, NSW, September 2005, 25-30.'
Engle, L. R., Dimitriadi, N., Gavidia, J. V., Schlaegel, C., Delanoe, S., Alvarado, I., et al. (2010) 'Entrepreneurial intent: A twelve-country evaluation of Ajzen's model of planned behavior. International Journal of Entrepreneurial Behaviour & Research , 16 (1),35 - 57.'
Farradinna, S., Fadhlia, T.N, Azmansyah.D. (2019) 'Psychological Resilience Predicted by Personality Traits, Locus of Control and Self-Regulation of Young Entrepreneurs in Pekanbaru. Global J. Bus. Soc. Sci. Review, 7(1), 1'.
Fitzsimmons, J.R., Douglas, E.J. (2011) 'Interaction between feasibility and desirability in the formation of entrepreneurial intentions. Journal of Business Venturing, 26 (4), 431-40.'
Fuller, B., Liu, Y., Bajaba, S., Marler, L.E., Prat, J. (2018) 'Examining how the personality, selfefficacy, and anticipatory cognitions of potential entrepreneurs shape their entrepreneurial intentions. Personality and Individual Differences, 125(5), 120-5.'
Gault, F. (2018) 'Defining and measuring innovation in all sectors of the economy. Research Policy, 43 (3), 617-22. 10.1016/j.respol.2018.01.007'.
Hessels, J., Naude, W. (2017) 'The Intersection of the Fields of Entrepreneurship and Development Economics: A Review towards a New View. Discussion paper series, Paper No.11103, IZA Institute of Labour Economics, Bonn, Germany.'
Hwang, Y. (2017) 'What Is the Cause of Graduates' Unemployment? Focus on Individual Concerns and Perspectives. Journal of Educational Issues, 3(2), 1-10. http://dx.doi.org/ 10.5296/jei.v3i2.11378.'
Joensuu-Salo S, Viljamaa A, Varamäki E. (2021) 'Understanding Business Takeover Intentions—The Role of Theory of Planned Behavior and Entrepreneurship Competence. Administrative Sciences, 11(3), 61. https://doi.org/10.3390/admsci11030061'.
Joseph,I. (2017) 'Factors Influencing International Student Entrepreneurial Intention in Malaysia. American Journal of Industrial and Business Management, 7, 424-8. doi: 10.4236/ajibm.2017.74030.'
Jwara, N., Hoque, M. (2018) 'Entrepreneurial Intentions among University Students: A Case Study of Durban University of Technology. Academy of Entrepreneurship Journal, 24.'
Kawohl, W., & Nordt, C. (2020) 'COVID-19, unemployment, and suicide. The lancet. Psychiatry, 7(5), 389–90. https://doi.org/10.1016/S2215-0366(20)30141-3'.
Khan, M., Ahmed, I. (2011) 'Impact of personality traits on entrepreneurial intentions of university students. Interdisciplinary Journal of Research in Business, 1 (4), 51-7. http://joc.hcc.edu.pk/faculty_publications/jochcc2009_1.pdf'.
Khanka, S. (2009) 'Motivational orientation of Assamese entrepreneurs in the SME sector. The Journal of Entrepreneurship, 18 (2), 209–18.'
Kritikos, A. S (2014) 'Entrepreneurs and their impact on jobs and economic growth. IZA World of Labor.'
Krueger, N. (1993) 'The impact of prior entrepreneurial exposure on perceptions of new venture feasibility and desirability. Entrepreneurship Theory and Practice Journal, 5 (3), 315-30.'
Krueger, N., Brazeal, D.V. (1994) 'Entrepreneurial potential and potential entrepreneurs. Entrepreneurship Theory and Practice Journal, 18 (3), 91-104.'
Krueger, N., Reilly, M.D., Carsrud, A.L. (2000) 'Competing models of entrepreneurial intention. Journal of Business Venturing, 15 (6), 411-32.'
Krueger, N.J. (1998) 'Encouraging the identification of environmental opportunities. Journal of Organizational Change Management, 11 (2), 174-83.'
Lee, L., Wong, P., Ho, Y. (2005) 'Entrepreneurship Propensities: The Influence of Self-Efficacy, Opportunity Perception, and Social Networks. doi. 10.2139/ssrn.856265'.
Mgaiwa, S. J (2021) 'Fostering Graduate Employability: Rethinking Tanzania's University Practices. SAGE Open. doi:10.1177/21582440211006709'.
Miralles, F., Giones, F., Riverola, C. (2016) '"Evaluating the impact of prior experience in entrepreneurial intention", International Entrepreneurship and Management Journal, Vol. 12 No. 3, pp. 791-813.'
Moghavvemi, S., Mohd Salleh, N.A., Standing, C. (2016) 'Entrepreneurs adoption of information system innovation: The impact of individual perception and exogenous factors on entrepreneurs behavior. Internet Research, 26 (5), 1181-208.'
Mok, K. H., Jiang, J (2018) 'Massification of higher education and challenges for graduate employment and social mobility: East Asian experiences and sociological reflections. International Journal of Educational Development, 63, 44–51.'
Ngah, R., Salleh, Z. (2015) 'Emotional Intelligence and Entrepreneurs' innovativeness towards Entrepreneurial Success: A Preliminary Study. American Journal of Economics, 5 (2), 2015, 285-90. doi: 10.5923/c.economics.201501.37.'
Nghia, T.H (2019) 'Building soft skills for employability: Challenges and practices in Vietnam. Routledge.'
Nguyen, C. (2017) 'Entrepreneurial intention of international business students in Vietnam: a survey of the country joining the Trans-Pacific Partnership. J Innov Entrep, 6, 7. https://doi.org/10.1186/s13731-017-0066-z'.
Nordt C, Warnke I, Seifritz E, Kawohl W. (2015) 'Modelling suicide and unemployment: a longitudinal analysis covering 63 countries, 2000–11. Lancet Psychiatry, 2, 239–45.'
Onu, A.J.C. (2013) 'Stimulating entrepreneurship in educational institutions in Nigeria. European scientific journal, 9(25), 38-46.'
Ooi, Y.K, Ahmad, S. (2012) 'A study among university students in business start-ups in Malaysia: Motivations and obstacles to become entrepreneurs. International Journal of Business and Social Science (IJBSS), 3 (19), 181-92'.
O'Regan N., Ghobadian A. (2005) 'Innovation in SMEs: the impact of strategic orientation and environmental perceptions. International Journal of Productivity and Performance Management, 54 (2), 81-97.'
Raposo, M., Paco, A. (2011) 'Entrepreneurship education: Relationship between education and entrepreneurial activity, Psicothema, 23(3), 453-7.'
Riswanto, A. (2016) 'The Role of the Entrepreneur in Innovation and in Economic Development. In 2016 Global Conference on Business, Management and Entrepreneurship. Atlantis Press'.
Şahin, F., Karadağ, H., Tuncer, B. (2019) 'Big five personality traits, entrepreneurial self-efficacy and entrepreneurial intention: A configurational approach. International Journal of Entrepreneurial Behavior & Research, 25 (6), 1188-211. https://doi.org/10.1108/IJEBR-07-2018-0466'.
Shook, C.L., Bratianu, C. (2008) 'Entrepreneurial intent in a transitional economy: an application of the theory of planned behavior to Romanian students. International Entrepreneurship Management Journal, 6 (3), 231-47.'
Silva, A. & Nobre, N. (2018) 'Students' Entrepreneurial Propensity: An Exploratory Study from a Portuguese Polytechnic School. Journal of Entrepreneurship and Organization Management, 7(1), 1-6.'
Sze, C.C and Ai, Y. J., Fern, Y. S., & Jomay, Y (2021) 'Entrepreneurial Intention Among the University Students: Personality Traits that Matter. International Journal of Entrepreneurship, Business and Creative Economy, 1(1), 1–12. https://doi.org/10.31098/ijebce.v1i1.425'.
Timmons, J. A., & Spinelli, S. (2009) 'New Venture Creation: Entrepreneurship for the 21st Century. 8th edition: McGraw-Hill.'
Tran, A.T.P. , Von Korflesch, H. (2016) 'A conceptual model of social entrepreneurial intention based on the social cognitive career theory. Asia Pacific Journal of Innovation and Entrepreneurship, 10 (1); 17-38. https://doi.org/10.1108/APJIE-12-2016-007'.
Zhang, P., Wang, D., Owen, C. (2015) 'A Study of Entrepreneurial Intention of University Students. Entrepreneurship Research Journal, 5 (1), 61-82. https://doi.org/10.1515/erj-2014-0004'.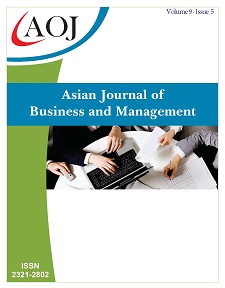 Downloads
How to Cite
Mejjah, O., Ngulyavyangu, H. ., Peter, T. ., & Mwita, S. (2021). Assessment of Entrepreneurial Traits and Intention among Undergraduate Students at Catholic University of Health and Allied sciences -Mwanza, Tanzania. Asian Journal of Business and Management, 9(5). https://doi.org/10.24203/ajbm.v9i5.6808
License
Copyright (c) 2021 Asian Journal of Business and Management
This work is licensed under a Creative Commons Attribution-NoDerivatives 4.0 International License.
Papers must be submitted on the understanding that they have not been published elsewhere (except in the form of an abstract or as part of a published lecture, review, or thesis) and are not currently under consideration by another journal published by any other publisher.
It is also the authors responsibility to ensure that the articles emanating from a particular source are submitted with the necessary approval.
The authors warrant that the paper is original and that he/she is the author of the paper, except for material that is clearly identified as to its original source, with permission notices from the copyright owners where required.
The authors ensure that all the references carefully and they are accurate in the text as well as in the list of references (and vice versa).
Authors retain copyright and grant the journal right of first publication with the work simultaneously licensed under a Creative Commons Attribution License that allows others to share the work with an acknowledgement of the work's authorship and initial publication in this journal.
Authors are able to enter into separate, additional contractual arrangements for the non-exclusive distribution of the journal's published version of the work (e.g., post it to an institutional repository or publish it in a book), with an acknowledgement of its initial publication in this journal.
Authors are permitted and encouraged to post their work online (e.g., in institutional repositories or on their website) prior to and during the submission process, as it can lead to productive exchanges, as well as earlier and greater citation of published work (See The Effect of Open Access).
The journal/publisher is not responsible for subsequent uses of the work. It is the author's responsibility to bring an infringement action if so desired by the author.