Development of Arabic Language Learning Model Based on Bi'ah Lugawiyyah to Improve Student's Speaking Skills in Islamic Religious College
Keywords:
Learning Model, Arabic Language, Speaking Skills, Bi'ah Lugawiyyah.
Abstract
Learning Arabic in universities has not yet utilized the language environment as a learning resource. Improve speaking skills in Arabic cannot be separated from the language environment. This study aims to produce a valid, practical, and effective Arabic learning model to improve students' Arabic speaking skills at Islamic religious colleges. This research is research and development by adopting the ADDIE design by Branch, which consists of five phases: analysis, design, development, implementation, and evaluations. The research subjects involved 23 university students for the practicality and effectiveness test and two experts for the validity test. Data collection techniques were carried out using instruments such as questionnaires, interviews, observation sheets, and tests of Arabic speaking skills. Qualitative and quantitative methods then analyzed the data. The data analysis showed that the bi'ah lugawiyyah-based Arabic learning model was tested to be valid, practical and effective in improving students' Arabic speaking skills at Islamic universities.
References
Abdurochman, A. (2017). STRATEGI PEMBELAJARAN KOSAKATA BAHASA ARAB BAGI NON ARAB. An Nabighoh, 19(1), 63–83. https://doi.org/10.32332/an-nabighoh.v19i1.758
Akker, J. V. D., Branch, R. M., Gustafson, K., Nieveen, N., & Plomp, T. (1999). Design Approaches and Tools in Education and Training (1st Ed). Springer Netherlands. https://ris.utwente.nl/ws/portalfiles/portal/14472302/Introduction_20to_20education_20design_20research.pdf
Branch, R., M. (2009). Instructional Design: The ADDIE Approach. Springer.
Burhan, A., Mu'in, A., & Basith, A. (2013). PERANAN PEMBELAJARAN MATA KULIAH BAHASA ARAB PADA KEMAMPUAN MENULIS BERBAHASA ARAB BAGI MAHASISWA PROGRAM STUDI PENDIDIKAN BAHASA ARAB (PBA) ANGKATAN 2009 JURUSAN TARBIYAH STAIN PEKALONGAN. JURNAL PENELITIAN, 10(1), Article 1. https://doi.org/10.28918/jupe.v10i1.358
Fahri, A. (2009). IMPLIKASI PENGUASAAN NAHWU-SHOROF SISWA TERHADAP PEMAHAMAN BAHASA ARAB DI MADRASAH TSANAWIYAH NEGERI YOGYAKARTA 1 [Skripsi, UIN Sunan Kalijaga Yogyakarta]. https://digilib.uin-suka.ac.id/id/eprint/2690/
Fahri, I. (2007). Handout Metode Penelitian Bahasa Arab. FBS Unnes.
Hamid, A. (2010). Teori belajar dan pembelajaran. Rineka Cipta.
Himmah, R. H. (2017). Lingkungan Bahasa dalam Peningkatan Kemahiran Berbicara Bahasa Arab Bagi Siswa Madrasah Bertaraf Internasional Amanatul Ummah Pacet Mojokerto Jawa Timur Tahun 2012. Jurnal Darussalam: Jurnal Pendidikan, Komunikasi Dan Pemikiran Hukum Islam, 6(1), 209–224.
Iqbal, M. (2021). Pengenalan Bahasa Arab untuk Anak-anak di Lingkungan Transmigrasi Desa Sikerabang. WARAQAT : Jurnal Ilmu-Ilmu Keislaman, 6(1), 32–45. https://doi.org/10.51590/waraqat.v6i1.151
Joyce, B. R. (2015). Models of Teaching (9th Edition). Pearson.
Musni, J. (2009). Psikolinguistik Pembelajaran Bahasa Arab. Humaniora.
Mustaqim, M. (2016). تفاعلية البيئة في اكتساب اللغة العربية بمعهد دار اللغةوالدراسات الإسلامية سنينان اكور بالنجائن باميكاسن مدورا. Analisis: Jurnal Studi Keislaman, 16(2), 229–254. https://doi.org/10.24042/ajsk.v16i2.1123
Prono, H., & Soenarto, S. (2014). Evaluasi program SMK kelas jauh di Pondok Pesantren Darul Qur'an Kabupaten Gunungkidul. Jurnal Pendidikan Vokasi, 4(1), Article 1. https://doi.org/10.21831/jpv.v4i1.2532
Rahmi, N. (2017). RELEVANSI KURIKULUM DAN WUJUD KONGKRET TUJUAN PEMBELAJARAN BAHASA ARAB. An Nabighoh, 19(1), 107–126. https://doi.org/10.32332/an-nabighoh.v19i1.760
Suja'i. (2008). Inovasi pembelajaran bahasa arab: Strategi dan metode pengembangan kompetensi. Walisongo Press.
Tarigan, Henry Guntur. (1986). Berbicara Sebagai Keterampilan Berbahasa. Angkasa.
Wilson, B. G. (1996). Constructivist learning environments: Case studies in instructional design. Educational Technology Publications.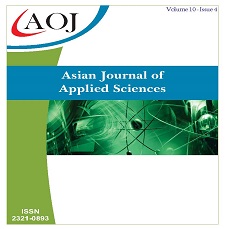 Downloads
How to Cite
Takdir, Ahmad, A., & Abdul Gani, H. (2022). Development of Arabic Language Learning Model Based on Bi'ah Lugawiyyah to Improve Student's Speaking Skills in Islamic Religious College. Asian Journal of Applied Sciences, 10(4). https://doi.org/10.24203/ajas.v10i4.7025
License
Copyright (c) 2022 Takdir, Arifin Ahmad, Hamsu Abdul Gani
This work is licensed under a Creative Commons Attribution-NonCommercial 4.0 International License.
Papers must be submitted on the understanding that they have not been published elsewhere (except in the form of an abstract or as part of a published lecture, review, or thesis) and are not currently under consideration by another journal published by any other publisher.
It is also the authors responsibility to ensure that the articles emanating from a particular source are submitted with the necessary approval.
The authors warrant that the paper is original and that he/she is the author of the paper, except for material that is clearly identified as to its original source, with permission notices from the copyright owners where required.
The authors ensure that all the references carefully and they are accurate in the text as well as in the list of references (and vice versa).
Authors retain copyright and grant the journal right of first publication with the work simultaneously licensed under a Attribution-NonCommercial 4.0 International that allows others to share the work with an acknowledgement of the work's authorship and initial publication in this journal.
Authors are able to enter into separate, additional contractual arrangements for the non-exclusive distribution of the journal's published version of the work (e.g., post it to an institutional repository or publish it in a book), with an acknowledgement of its initial publication in this journal.
Authors are permitted and encouraged to post their work online (e.g., in institutional repositories or on their website) prior to and during the submission process, as it can lead to productive exchanges, as well as earlier and greater citation of published work (See The Effect of Open Access).
The journal/publisher is not responsible for subsequent uses of the work. It is the author's responsibility to bring an infringement action if so desired by the author.