Evaluation of the Implementation of 2013 National Curriculum in Madrasas through the Context, Input, Process, Product Model at the Ministry of Religion of South Sulawesi Province for Academic Year 2019/2020
Keywords:
implementation evaluation, 2013 curriculum, context model
Abstract
This study aims to obtain a comprehensive picture of the evaluation of the implementation of the 2013 national curriculum in madrasah through the context, input, process, and product model of South Sulawesi's province for the 2019/2020 academic year. By using the context, information, process, and product models developed. This study specifically aims to: (1) find out how the 2013 curriculum is implemented based on its context, (2) know the implementation of the 2013 curriculum based on its input (input), (3) understanding the performance of the 2013 curriculum based on its implementation (process), and (4) knowing the level of achievement (product) of the 2013 curriculum implementation. However, in this article, only the first objective is presented. This study also wanted to know the advantages and disadvantages of the 2013 curriculum and its relevance to the present and future situation. Through a focus group discussion using the questionnaire method, observation sheets, interview guidelines, and documentation studies, the conclusion is that the implementation of the 2013 curriculum has been running according to the context. All supporting factors are ready before the 2013 curriculum is implemented in madrasas throughout the cell. This study also found that the 2013 curriculum has certain advantages, especially its emphasis on the aspect of character building of students so that the 2013 curriculum is still worth maintaining because it is still relevant today and in the next few years while correcting some of the weaknesses that accompany the implementation of the 2013 curriculum, especially limitations. Educators (teachers) both in number and in quality.
References
Idi A. Pengembangan Kurikulum : Teori & Praktik. 1st Ed. Jakarta: Rajawali Pers; 2014.
Rusnaeni E. Pelaksanaan Kurikulum 2013 Mata Pelajaran PPKn di SMAN 4 Makassar [Internet] [diploma]. FIS; 2018 [cited 2021 Jun 14]. Available from: http://eprints.unm.ac.id/9980/
Kementerian Pendidikan dan Kebudayaan Indonesia. Pedoman Pemberian Bantuan Implementasi Kurikulum 2013 [Internet]. 2013 [cited 2021 Apr 7]. Available from: https://dokumen.tech/document/pedoman-pemberian-bantuan-implementasi-kurikulum-2013.html
Ansyar M. Kurikulum : hakikat, fondasi, desain dan pengembangan. 1st Ed. Jakarta: Prenadamedia Group; 2015.
Haling A. Belajar dan Pembelajaran. Makassar: Badan Penerbit UNM; 2007.
Sukmadinata NS. Pengembangan kurikulum : teori dan praktek. Bandung: Remaja Rosdakarya; 2006.
Lemlech JK. Curriculum and Instructional Methods for the Elementary and Middle School. 7th Ed. University of Southern California: Pearson; 2010.
Dahlan A. Definisi Masalah dan Jenis-Jenis Masalah Dalam Penelitian [Internet]. Eureka Pendidikan. 2015 [cited 2021 Apr 8]. Available from: https://eurekapendidikan.com/definisi-masalah-dan-jenis-jenis-dalam-penelitian
Sanjaya W. Kurikulum dan Pembelajaran: Teori dan Praktik Pengembangan Kurikulum Tingkat Satuan Pendidikan (KTSP). Jakarta: Kencana; 2008.
Okpokwasili NP. TYLER'S MODEL FOR CURRICULUM DESIGN IN SOCIAL STUDIES. Rivers State University of Science and Technology; 2003.
Tai J, Ajjawi R, Boud D, Dawson P, Panadero E. Developing evaluative judgement: enabling students to make decisions about the quality of work. High Educ. 2018 Sep;76(3):467–81.
Vishnupriyan M. Curriculum Evaluation: Using the Context, Input, Process and Product (CIPP) Model for Decision Making. Indian Journal of Continuing Nursing Education. 2017 Dec;18(2):12–8.
Sukardi. Metodologi Penelitian Pendidikan Kompetensi dan Praktiknya. Yogyakarta: Bumi Aksara; 2003.
Budiani S, Sudarmin S, Syamwil R. Evaluasi Implementasi Kurikulum 2013 di Sekolah Pelaksana Mandiri. 1. 2017 Aug 3;6(1):45–57.
Anshori FR. PROGRAM STUDI PENDIDIKAN EKONOMI JURUSAN PENDIDIKAN ILMU PENGETAHUAN SOSIAL FAKULTAS TARBIYAH UNIVERSITAS ISLAM NEGERI MAULANA MALIK IBRAHIM MALANG Januari, 2016. [Malang]: UIN Maulana Malik Ibrahim; 2016.
Aqdwirida R. IMPEMENTASI KURIKULUM 2013 DI SMA NEGERI 2 MAGELANG. Spektrum Analisis Kebijakan Pendidikan. 2016 Jun 24;5(1):34–48.
Hasan H. Evaluasi Kurikulum. Bandung: Rosdakarya; 2008.
Wulandari S. PENERAPAN PENILAIAN HARIAN PEMBELAJARAN FIKIH DALAM PELAKSANAAN KURIKULUM 2013 DI MADRASAH TSANAWIYAH AL MUTTAQIN PEKANBARU [Internet]. UIN Suska Riau. 2018 [cited 2021 Jun 14]. Available from: http://repository.uin-suska.ac.id/12874/
Faris FA. KURIKULUM 2013 DALAM PERSPEKTIF FILSAFAT PENDIDIKAN PROGRESSIVISME. Jurnal Filsafat. 2016 Aug 16;25(2):316–38.
Uran LL. Evaluasi implementasi KTSP dan Kurikulum 2013 pada SMK se-Kabupaten Belu, Nusa Tenggara Timur. Jurnal Penelitian dan Evaluasi Pendidikan. 2018 Jun 26;22(1):1–11.
Junaidi A, Subagyo S. KESIAPAN SARANA DAN PRASARANA DALAM MENGIMPLEMENTASI KURIKULUM 2013 SEKOLAH MENENGAH KEJURUAN (SMK) NEGERI PROGRAM STUDI TEKNIK OTOMOTIF JURUSAN TEKNIK KENDARAAN RINGAN (TKR) SEKABUPATEN LOMBOK TIMUR TAHUN AJARAN 2013/2014. TAMAN VOKASI. 2017 Mar 15;2.
Andesmi Y, Oktaviani ST. TINJAUAN KETERSEDIAAN SARANA DAN PRASARANA KURIKULUM 2013 DI SMK N 1 SUMBAR PADA WORKSHOP KAYU. CIVED (Journal of Civil Engineering and Vocational Education) [Internet]. 2019 Sep 15 [cited 2021 Jun 14];6(3). Available from: http://ejournal.unp.ac.id/index.php/cived/article/view/106234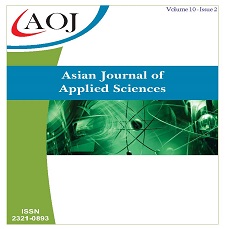 Downloads
How to Cite
Rappe, Syam, H., & Abdul Gani, H. (2022). Evaluation of the Implementation of 2013 National Curriculum in Madrasas through the Context, Input, Process, Product Model at the Ministry of Religion of South Sulawesi Province for Academic Year 2019/2020. Asian Journal of Applied Sciences, 10(2). https://doi.org/10.24203/ajas.v10i2.6897
License
Copyright (c) 2022 Rappe, Husain Syam, Hamsu Abdul Gani
This work is licensed under a Creative Commons Attribution-NonCommercial 4.0 International License.
Papers must be submitted on the understanding that they have not been published elsewhere (except in the form of an abstract or as part of a published lecture, review, or thesis) and are not currently under consideration by another journal published by any other publisher.
It is also the authors responsibility to ensure that the articles emanating from a particular source are submitted with the necessary approval.
The authors warrant that the paper is original and that he/she is the author of the paper, except for material that is clearly identified as to its original source, with permission notices from the copyright owners where required.
The authors ensure that all the references carefully and they are accurate in the text as well as in the list of references (and vice versa).
Authors retain copyright and grant the journal right of first publication with the work simultaneously licensed under a Attribution-NonCommercial 4.0 International that allows others to share the work with an acknowledgement of the work's authorship and initial publication in this journal.
Authors are able to enter into separate, additional contractual arrangements for the non-exclusive distribution of the journal's published version of the work (e.g., post it to an institutional repository or publish it in a book), with an acknowledgement of its initial publication in this journal.
Authors are permitted and encouraged to post their work online (e.g., in institutional repositories or on their website) prior to and during the submission process, as it can lead to productive exchanges, as well as earlier and greater citation of published work (See The Effect of Open Access).
The journal/publisher is not responsible for subsequent uses of the work. It is the author's responsibility to bring an infringement action if so desired by the author.