Development of Learning Equipment Learning Implementation Plan (RPP) Integration of Character Education in Pancasila and Citizenship Education Subjects (PPKN) at Smp Negeri 20 Makassar
Keywords:
RPP Learning Tools, Integration, Character Education
Abstract
This research is development research that aims to produce a Learning Toolkit for Integrated RPP Character Education in Pancasila and Citizenship Education (PPKn) subjects at SMP Negeri 20 Makassar which meets the valid criteria with the subject of this research as many as 30 students in SMP Negeri 20 Makassar in Class VIIA. The desired product in this research is a valid, practical, and effective RPP Learning Tool for Character Education Integration. The product consists of three components, namely: lesson plans, student books, and teacher's books. This developmental research process refers to the 4-D model This model is a learning development approach system that is carried out covering 4 stages, namely defining, designing, developing and disseminating. The results showed that the Learning Toolkit for Integrated Character Education RPP that was developed was declared valid based on the validator's assessment and the results of a limited trial carried out for two trials. The validity of the Learning Toolkit for Integration of Character Education RPP is measured based on the assessment of the results of the validation of experts (validators) who meet the validity criteria, namely (1) RPP with a strong relevance category with a validity coefficient of 3.92 with the "Very Valid" category, (2) student books with the "Valid" category with a validity value of 4.10, (3) Teacher's Books in the "Valid" category with a validity value of 4.30. This shows that the resulting Character Education Integration RPP Learning Toolkit is in the valid category.
References
Undang-Undang Sistem Pendidikan Nasional, Pub. L. No. No. 20 (2007).
Departemen Pendidikan Nasional. (2010). Pendidikan Karakter Teori dan Aplikasi. Direktorat Jenderal Manajemen Pendidikan dan Menengah.
Gunawan, H. (2012). Pendidikan Karakter, konsep dan Implementasi. Alfabeta.
Hobri. (2010). Metodologi Penelitian Pengembangan (Aplikasi pada Penelitian Pendidikan Matematika). Pena Salsabila.
Ibrahim & Muslimin. (2000). Pembelajaran Kooperatif. Universitas Surabaya Press.
Joyce, B., Weil, M., & Calhoun, E. (2011). Models of Teaching: Model-Model Pengajaran (8th Ed). Pustaka Pelajar.
Kneller, G. F. (1963). Foundations of Education. Wiley.
Novalia, R., Makmuri, Sudrajat, A., & Adiansha, A. A. (2019). Application of Type Cooperative Learning Models Missouri Mathematics Project (Mmp) to Increase Learning Results Math. American Journal of Educational Research, 6(8), 1085–1092. https://doi.org/10.12691/education-6-8-4
Nurdin. (2007). Model Pembelajaran Matematika yang Membutuhkan Kemampuan Metakognitif untuk Menguasai Bahan Ajar. Universitas Negeri Surabaya.
Panggabean, D. D., & Suyanti, R. D. (2012). ANALISIS PEMAHAMAN KONSEP AWAL DAN KEMAMPUAN BERPIKIR KRITIS BIDANG STUDI FISIKA MENGGUNAKAN MODEL PEMBELAJARAN ADVANCE ORGANIZER DAN MODEL PEMBELAJARAN DIRECT INSTRUCTION. Jurnal Online Pendidikan Fisika, 1(2). https://123dok.com/document/y8g027wz-analisis-pemahaman-kemampuan-menggunakan-pembelajaran-organizer-pembelajaran-instruction.html
Rosyid, M. (2012). JEJAK KESINAMBUNGAN MADRASAH DINIYAH MUAWANATUL MUSLIMIN SEJAK 1915 HINGGA 2012 DI KUDUS: STUDI SEJARAH. INFERENSI, 6, 251. https://doi.org/10.18326/infsl3.v6i2.251-274
Slavin, R. E. (2015). Cooperative learning: Teori, riset dan praktik. Nusamedia.
Tanzeh, A. (2010). Metodologi Penelitian Praktis. Teras.
Thiagarajan, S., Semmel, D. S., & Semmel, M. I. (1974). Instructional Development for Training Teachers of Exceptional Children. Leadership training institute/special education.
UzZaman, T., Choudhary, F. R., & Qamar, A. M. (2015). Advance Organizers Help to Enhance Learning and Retention. International Journal of Humanities Social Sciences and Education (, 2(3), 45–53.
Wijayanti, D. (2018). CHARACTER EDUCATION DESIGNED BY KI HADJAR DEWANTARA. EduHumaniora | Jurnal Pendidikan Dasar Kampus Cibiru, 10(2), 85–91. https://doi.org/10.17509/eh.v10i2.10865
Yalçin, S. A., Turgut, Ü., & Büyükkasap, E. (2009). The Effect of Project Based Learning on Science Undergraduates' Learning of Electricity, Attitude towards Physics and Scientific Process Skills. International Online Journal of Educational Sciences, 1(1), 26.
Zubaedi. (2012). Design Pendidikan Karakter: Konsepsi dan Aplikasinya dalam Lembaga Pendidikan. Kencana Prenada Media Group.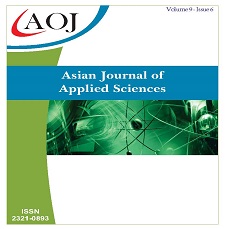 Downloads
How to Cite
Masding, M., Ahmad, A., Anshari, A., & Abdul Gani, H. (2021). Development of Learning Equipment Learning Implementation Plan (RPP) Integration of Character Education in Pancasila and Citizenship Education Subjects (PPKN) at Smp Negeri 20 Makassar. Asian Journal of Applied Sciences, 9(6). https://doi.org/10.24203/ajas.v9i6.6803
License
Copyright (c) 2022 Masding Masding, Arifin Ahmad, Anshari Anshari, Hamsu Abdul Gani
This work is licensed under a Creative Commons Attribution-NonCommercial 4.0 International License.
Papers must be submitted on the understanding that they have not been published elsewhere (except in the form of an abstract or as part of a published lecture, review, or thesis) and are not currently under consideration by another journal published by any other publisher.
It is also the authors responsibility to ensure that the articles emanating from a particular source are submitted with the necessary approval.
The authors warrant that the paper is original and that he/she is the author of the paper, except for material that is clearly identified as to its original source, with permission notices from the copyright owners where required.
The authors ensure that all the references carefully and they are accurate in the text as well as in the list of references (and vice versa).
Authors retain copyright and grant the journal right of first publication with the work simultaneously licensed under a Attribution-NonCommercial 4.0 International that allows others to share the work with an acknowledgement of the work's authorship and initial publication in this journal.
Authors are able to enter into separate, additional contractual arrangements for the non-exclusive distribution of the journal's published version of the work (e.g., post it to an institutional repository or publish it in a book), with an acknowledgement of its initial publication in this journal.
Authors are permitted and encouraged to post their work online (e.g., in institutional repositories or on their website) prior to and during the submission process, as it can lead to productive exchanges, as well as earlier and greater citation of published work (See The Effect of Open Access).
The journal/publisher is not responsible for subsequent uses of the work. It is the author's responsibility to bring an infringement action if so desired by the author.