Carnot Engine: A New Look with Different Real Gas Equations
Keywords:
Carnot engine, efficiency, equation of state, entropy, specific heat, Maxwell's TdS relation, Van der Waal's equation, Berthelot's equation, Clausius's equation.
Abstract
The efficiency of Carnot engine, an important machine in classical thermodynamics, depends only on the temperatures of source and sink reservoirs and is independent of the nature of the working substance. There are several real gas equations which may be used to verify this statement. Here we choose three real gas equations viz. Van der Waal's, Berthelot's and Clausius's real gas equation of state for simplicity for this verification.
References
David Halliday, Robart Resnick and Jearl Walker, Fundamentals of Physics, John Willy & sons, 674-679, 1960.
M. N. Saha and B. N. Srivastave, A Tretise on Heat, The Indiasn Press Pvt. Ltd. 230-243, 1958.
M. W Zemansky and Richard Dittman, Heat and Thermodynamics, McGraw Hill, 1981.
Enrico Fermi, Thermodynamics, Dover Pub, 1956.
F. Rief, Fundaentals of Statistical and Thermal Physics, McGraw Hill, 1965.
D. C. Agrawal and V. J. menon, "The Carnot Cycle with the Van der Waals Equation of State", Eur. J. Phys. Vol.11, pp.88-90,1990.
Paulus C. Tjiang and Sylvia H. Sutanto, "Efficiency of Carnot Cycle with Arbitrary Gas Equation of State", arXive/0601173v4.
A. A. Sobko, "Generalised Van der Waals-Berthelot Equation of state", Doklady Physics, Vol.53, Issue.5, pp.416-419, 2008.
A. A. Sobko, "Description of Evaporation Curve by the Generalised Van der Waal-Berthelot Equation. Part I", Journal of Physical Science and application, Vol.4, Issue.8, pp.524-530, 2014.doi:10.17265/2159-5348/2014.08
Jaime Wisniak, "Daniel Berthelot. Part I. Contribution to thermodynamics", para quitarle el polvo Educ. Quim. Vol.21, Issue.2, pp.155-162, 2010.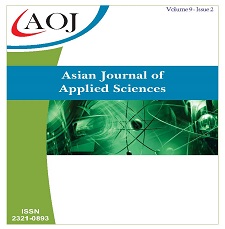 Downloads
How to Cite
Ghorai, A., & Sen, D. (2021). Carnot Engine: A New Look with Different Real Gas Equations. Asian Journal of Applied Sciences, 9(2). https://doi.org/10.24203/ajas.v9i2.6572
License
Copyright (c) 2021 Amitava Ghorai, Debojit Sen
This work is licensed under a Creative Commons Attribution-NonCommercial 4.0 International License.
Papers must be submitted on the understanding that they have not been published elsewhere (except in the form of an abstract or as part of a published lecture, review, or thesis) and are not currently under consideration by another journal published by any other publisher.
It is also the authors responsibility to ensure that the articles emanating from a particular source are submitted with the necessary approval.
The authors warrant that the paper is original and that he/she is the author of the paper, except for material that is clearly identified as to its original source, with permission notices from the copyright owners where required.
The authors ensure that all the references carefully and they are accurate in the text as well as in the list of references (and vice versa).
Authors retain copyright and grant the journal right of first publication with the work simultaneously licensed under a Attribution-NonCommercial 4.0 International that allows others to share the work with an acknowledgement of the work's authorship and initial publication in this journal.
Authors are able to enter into separate, additional contractual arrangements for the non-exclusive distribution of the journal's published version of the work (e.g., post it to an institutional repository or publish it in a book), with an acknowledgement of its initial publication in this journal.
Authors are permitted and encouraged to post their work online (e.g., in institutional repositories or on their website) prior to and during the submission process, as it can lead to productive exchanges, as well as earlier and greater citation of published work (See The Effect of Open Access).
The journal/publisher is not responsible for subsequent uses of the work. It is the author's responsibility to bring an infringement action if so desired by the author.