Lipid Metabolism in the Cattle in Different Stages of Reproductive Cycle
Keywords:
Cow, Peripartum period, Lipid metabolism, Oxidative stress
Abstract
The aim of this study was to evaluate the effect of feeding dairy cows in different stages of reproductive cycle on biochemical parameters and oxidative stress. To evaluate the effect of oxidative stress on lipids and lipid metabolism and to determine the impact of nutrition and energy balance on oxidative stress in peripartum period and in early lactation. Concentrations of different biochemical parameters were measured but for this paper the most important ones were indicators of oxidative stress, cholesterol and triglycerides and also albumin. Factors associated with oxidative stress were period 3 weeks before calving and related to that negative energy balance and also content of nonfiber carbohydrates in the diet in peripartum period. However, further studies will be needed to more precisely determine the specific effects of diet and energy balance on oxidative stress in cows and to establish normal ranges for these biomarkers of oxidative stress.
References
Miller, J. K., Brzezinska-Slebodzinska, E., Madsen, F. C. "Oxidative stress, antioxidants and animal function", Journal of Dairy Science. vol. 76, no. 9, pp. 2812- 2823, 1997.
Čaprnda, M. Oxidačný stres a ateroskleróza, (Univerzita Komenského), Bratislava, p. 87, 2014.
Lykkesfeldt, J., Svendsen, O. "Oxidants and antioxidants in disease: oxidative stress in farm animals", The Veterinary Journal. vol. 173, no. 3, pp. 502-511, 2007.
Förstermann, U. "Nitric oxide and oxidative stress in vascular disease", Pflugers archiv-European journal of physiology. vol. 459, no. 6, pp. 923-939, 2010.
Sugino, N. "Roles of reactive oxygen species in the corpus luteum", Animal Science Journal. vol. 77, no. 6, pp. 556–565. 2006.
Georgieva, N., V. "Oxidative stress as a factor of disrupted ecological oxidative balance in biological systems", Bulgarian Journal of Veterinary Medicine. vol. 8, no. 1, pp. 1-11., 2005.
Janero, D., R. "Malondialdehyde and thiobarbituric acid-reactivity as diagnostic indices of lipid peroxidation and peroxidative tissue injury", Free Radical Biology and Medicine. vol. 9, no. 6, pp. 515-540, 1990.
Council Directive 2010/63/EU of 22 September 2010 on the Protection of Animals Used for Scientific Purposes.
Costa, C. M., SantoS, R. C. C., Lima, E. S. "A simple automated procedure for thiol measurement in human serum samples", Jornal brasileiro de patologia e medicina laboratorial. vol. 42 no. 5, pp. 345-350, 2006.
Lohrke, B., Vierguth, T., Kanitz, W., Göllnitz, K., Becker, F., Hurtienne, A., Schweigert F. "High milk yield in dairy cows associated with oxidant stress", Journal of Veterinary Research. vo. 8, pp. 70–78, 2004.
Bernabucci, U., Ronchi, B., Lacetera, N., Nardone, A. "Influence of body condition score on the relationship between metabolic status and oxidative stress in periparturient dairy cows", Journal of Dairy Science. vol. 88, no. 6, pp. 2017-2026, 2005.
Nordberg, J., Arnér, E. S. J. "Reactive oxygen species, antioxidants, and the mammalian thioredoxin system", Free Radical Biology and Medicine. vol. 31, no. 11, pp. 1287-1312, 2001.
Trevisan, M., Freudenheim, J., Muti, P., Armstrong, D., Browne, R., Dorn, J. "Correlates of markers of oxidative status in the general population", American Journal of Epidemiology. vol. 154, no. 4, pp. 348-356. 2001.
Abuelo, A., Hernandez, J., Benedito, J. L., Castillo, C. "The importance of the oxidative status of dairy cattle in the periparturient period: revisiting antioxidant supplementation", Journal of animal physiology and animal nutrition. vol. 99, no. 6 pp.1003-1016, 2015.
Bertoni, G. Trevisi E., Han, X., Bionaz, M., "Effects of inflammatory conditions on liver activity in puerperium period and consequences for performance in dairy cows", Journal of Dairy Science. vol. 91, no. 9, pp. 3300-3310, 2008.
Kaneko, J. J., Harvey, J., Bruss, M. "Clinical Biochemistry of Domestic Animals (5th ed.)", (Academic Press, San Diego), p. 932 , 1997.
Roche, M., Rondeau, P., Singh, N. R., Tarnus, E., Bourdon, E. "The antioxidant properties of serum albumin", Febs Letters. vol. 582, no. 13, pp. 1783-1787, 2008.
Stocker, R., Keaney, J. F. "Role of oxidative modifications in atherosclerosis", Physiological Reviews. vol. 84, no. 4, pp. 1381-1478. 2004.
Yang, R. L., Shi, Y. H., Hao, G., Li, W., Le, G. W. "Increasing Oxidative Stress with Progressive Hyperlipidemia in Human: Relation between Malondialdehyde and Atherogenic Index", Journal of Clinical Biochemistry and Nutrition. 2008. vol. 43, no. 3, pp. 154-158, 2008.
Katsuki, A., Sumida, Y., Urakawa, H., Gabazza, E. C., Murashima, S., Nakatani, K., Yano, Y., Adachi, Y. "Increased oxidative stress is associated with serum levels of triglyceride, insulin resistance, and hyperinsulinemia in japanese metabolically obese, normal-weight men". Diabetes Care. vol. 27, no. 2, pp. 631-632. 2004.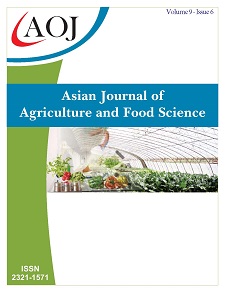 Downloads
How to Cite
Tomáš, M. ., Lukáš, B. ., Alena, H. Šamudovská ., Iveta, M. . ., & Zigo, F. (2021). Lipid Metabolism in the Cattle in Different Stages of Reproductive Cycle. Asian Journal of Agriculture and Food Sciences, 9(6). https://doi.org/10.24203/ajafs.v9i6.6836
License
Copyright (c) 2021 Mihok Tomáš, Bujňák Lukáš, Hreško Šamudovská Alena, Maskaľová Iveta, František Zigo
This work is licensed under a Creative Commons Attribution-NonCommercial 4.0 International License.
Papers must be submitted on the understanding that they have not been published elsewhere (except in the form of an abstract or as part of a published lecture, review, or thesis) and are not currently under consideration by another journal published by any other publisher.
It is also the authors responsibility to ensure that the articles emanating from a particular source are submitted with the necessary approval.
The authors warrant that the paper is original and that he/she is the author of the paper, except for material that is clearly identified as to its original source, with permission notices from the copyright owners where required.
The authors ensure that all the references carefully and they are accurate in the text as well as in the list of references (and vice versa).
Authors retain copyright and grant the journal right of first publication with the work simultaneously licensed under a Attribution-NonCommercial 4.0 International that allows others to share the work with an acknowledgement of the work's authorship and initial publication in this journal.
Authors are able to enter into separate, additional contractual arrangements for the non-exclusive distribution of the journal's published version of the work (e.g., post it to an institutional repository or publish it in a book), with an acknowledgement of its initial publication in this journal.
Authors are permitted and encouraged to post their work online (e.g., in institutional repositories or on their website) prior to and during the submission process, as it can lead to productive exchanges, as well as earlier and greater citation of published work (See The Effect of Open Access).
The journal/publisher is not responsible for subsequent uses of the work. It is the author's responsibility to bring an infringement action if so desired by the author.