Sanitation at the Slaughterhouse and the Hygiene of Food of Animal Origin
Keywords:
Disinfectant Virkon S, Microbiological swabs, Slaughterhouse, Hygiene, Disinfection
Abstract
Nowdays, one of the most important issues is the issue of food safety. There are many problems with the control of food safety and creation of appropriate legislation that protects food of animal origin. Hygiene and sanitation should be effectively applied and should be controlled at each step during production in food processing plants. The aim of study was to evaluate the surface microorganisms in the monitored parts of the slaughterhouse before slaughter and during slaughter but also after disinfection by disinfectant Virkon S. Disinfectant was used in a 1 % concentration and applied by spraying. Virkon S was effective on all monitored surfaces except the table for organs, where were detected 2x102 colony forming units per 10 cm2 of total count of bacteria, 2x102 colony forming units per 10cm2 of coliform bacteria and 1x102 colony forming unit per 10cm2 of moulds after disinfection. The sanitation program should be thoroughly planned, actively enforced, and effectively supervised. Disinfection has its meaning since, everything that comes into contact with the raw material can contribute to outbreaks of food borne illness.
References
Vargová M., Veszelits Laktičová K., Hromada R., Cimboláková I., Uher I., Papajová I. Sanitation and the
environment. Intechopen. 2020.
Regulation of the European Parliament and of the Council (ES) No. 853/2004 laying down specific hygiene rules for food of animal origin.
Vojtaššák J. Hygiene control with Lightning MVP detector. Maso, vol. 14, pp. 33–35, 2003.
Forsyte S.J. The microbiology of Safe Food. Blackwell Science, ISBN 0-632-05487-5, pp. 412-414, 2000.
Podstatová H. Microbiology - epidemiology – hygiene I. Olomouc Opava, 2001.
Hofmann, I. Sanitation measures and proper sanitation activities are of exceptional importance in meat operations. Maso, vol. 1, pp. 19-22, 2000.
Ondrašovičová O., Vargová M., Ondrašovič M., Biswencel H., Kašková A., Nagy J. Sanitation in meat processing plants. Proceedings of the seminar on meat preservation. Skaský Dvůr, pp. 51-55, 2003.
Cwiková O., Holický V. Evaluation of the level of hygiene and efficiency of sanitation in a food company. Food safety and control. Proceedings of an international scientific conference. Nitra, ISBN 976-80-552-0027-9, pp. 5–8, 2008.
ISO Standard 18593-2004: Microbiology of food and animal feeding stuffs: Horizontal methods for sampling techniques from surfaces using contact plates.
ISO Standard 4832-2006: Microbiology of food and animal feeding stuffs: Horizontal method or the enumeration of coliforms.
ISO Standard 21527-2008: Microbiology of food and animal feeding stuffs: Horizontal method for the enumeration of yeasts and moulds.
Štefkovičová M. Disinfection and sterilization, theory and practice II, Vrana, s.r.o., Žilina, pp. 90-92, 2007.
Langsrud S., Sidhu M.S., Heir E., Holck A.L. Bacterial disinfectant resistance - a challenge for the food industry. International Biodeterioration & Biodegradation, vol. 51, no. 4, pp. 283–290, 2003.
Gibson H., Taylor J.H., Hall K.E., Holah J.T. Effectiveness of cleaning techniques used in the food industry in terms of the removal of bacterial biofilms. Journal of Applied Microbiology, vol. 87, pp. 41-48, 1999. https://doi.org/10.1046/j.1365-2672.1999.00790.x
Singh M., Sharma R., Gupta P.K., Rana J.K. Comparative efficacy evaluation of disinfectants routinely used in hospital practice: India. Indian Journal of Critical Care Medicine, vol. 16, no. 3, pp. 123-128, 2012.
Melicherčíková V. Sterilization and disinfection in healthcare, Grada Publishing s.r.o., Praha 1998
Wirtanen G., Salo S. Reviews in Environmental Science and Bio/Technology, vol. 2, pp. 293-295, 2003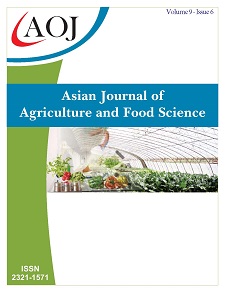 Downloads
How to Cite
Vargová, M. ., Zigo, F., & Laktičová, K. V. . (2021). Sanitation at the Slaughterhouse and the Hygiene of Food of Animal Origin. Asian Journal of Agriculture and Food Sciences, 9(6). https://doi.org/10.24203/ajafs.v9i6.6810
License
Copyright (c) 2021 Mária Vargová, František Zigo, Katarína Veszelits Laktičová
This work is licensed under a Creative Commons Attribution-NonCommercial 4.0 International License.
Papers must be submitted on the understanding that they have not been published elsewhere (except in the form of an abstract or as part of a published lecture, review, or thesis) and are not currently under consideration by another journal published by any other publisher.
It is also the authors responsibility to ensure that the articles emanating from a particular source are submitted with the necessary approval.
The authors warrant that the paper is original and that he/she is the author of the paper, except for material that is clearly identified as to its original source, with permission notices from the copyright owners where required.
The authors ensure that all the references carefully and they are accurate in the text as well as in the list of references (and vice versa).
Authors retain copyright and grant the journal right of first publication with the work simultaneously licensed under a Attribution-NonCommercial 4.0 International that allows others to share the work with an acknowledgement of the work's authorship and initial publication in this journal.
Authors are able to enter into separate, additional contractual arrangements for the non-exclusive distribution of the journal's published version of the work (e.g., post it to an institutional repository or publish it in a book), with an acknowledgement of its initial publication in this journal.
Authors are permitted and encouraged to post their work online (e.g., in institutional repositories or on their website) prior to and during the submission process, as it can lead to productive exchanges, as well as earlier and greater citation of published work (See The Effect of Open Access).
The journal/publisher is not responsible for subsequent uses of the work. It is the author's responsibility to bring an infringement action if so desired by the author.