Morphological Characteristics and Chemical Composition of Flesh and Haemolymph of Snails Fed Compounded Diet using Quail Droppings Meal as Protein Source
Keywords:
Archachatina marginata, feed conversion ratio, haemolymph. quail droppings meal
Abstract
This study investigated the morphological characteristics, and chemical composition of Archachatina marginata (African Giant Land Snail) reared on Quail droppings meal (QDM.) substituted for protein sources in snail feed. Five trial snail feeds (Diet I-V) were fed to fifty snails (average weight 157.3 g) for 12 weeks. The morphological characteristics of the snail and its flesh and haemolymph chemical composition were determined using standard methods. There was an appreciable increase in the growth parameters (weight, shell width and shell length) across the treatment groups. The feed conversion ratio (FCR) ranges from 2.74 to 3.75, and snails served Diet I gave the highest FCR. The result of the proximate analysis revealed that snail flesh possessed a higher amount of protein, fat, ash, fibre and energy except carbohydrate than hemolymph. Increasing QDM in the diets increased the proximate contents of the snail's flesh and hemolymph, except fat and fibre. The minerals found in all the treatments are not toxic, and snails fed diet V possessed the highest mineral contents (sodium, potassium, calcium, magnesium, iron and phosphorus). The result showed that diet V resulted in the best morphological parameters and feed utilisation of A. marginata snail. Substituting protein sources with QDM in snail feed improved the nutritional quality of snails, reducing the cost of the compounded ration.
References
. Emelue, G., & Dododawa, Z. (2017). Nutritional Composition of African Giant Land Snail (Archachatinamarginata) Fed on Diet from Different Protein Sources. Journal of Agriculture and Ecology Research International, 13(1), 1-7. https://doi.org/10.9734/JAERI/2017/33927
Ademosun, A.A. Omidiji, M.O. (1999) The Nutrient value of African giant land snail (Archachatina marginata) Journal of Animal Protection Research 8 (2): 876-877.
Orisawuyi YA (1989). Practices guide to snails rearing. Gratitude Enterprises, Lagos, p. 27.
Idowu, R. T., Inyang N. M, And Eyo, J. E. (2004).The physical-chemical parameters of an African Arid Zone man-made Lake. Animal Research International. 1(2): 113 – 119
Omole, A.J., 2002. Nutrients requirements for different stages of growth of African giant Snail (Archachatinamarginata) PhD thesis submitted at the dept of animal science, University of Ibadan.
P2
Cobbinah, J.R., Vink, A. and Onwuka B., (2008). Snail Farming: Production, Processing and Marketing, (Agromisia Foundation, Agrodok 47 and CTA, Wageningen.)
Ademolu K.O, Idowu A.B, Mafiana C.F, Osinowo O.A (2004). Performance Proximate and Mineral Analyses of African Giant Land Snail (Archachatina marginata) Fed Different Nitrogenous Sources; Afr. J. of Biomech. 3(8): 412 - 417.
AOAC, (2006) Official methods of analysis of association of official analytical chemists, 18th Edition;
SPSS 2007 Statistical Package for the Social Sciences for Windows, Version 17.0, Chicago, SPSS. Inc.;
South A (1992). Terrestrial slugs: Biology, ecology and control. Chapman and Hall, pp. 66 –101.
Onimisi P A and Omage J J (2006) Evaluation of poultry litter as a feedstuff for growing rabbits LivestockResearch for Rural Development 18 (11)
Ilelaboye N. O. and O. O. Adegbola, 2018 Growth Performance and Proximate Composition of Archachatina marginata Snail Fed with Formulated Diets Using Pawpaw (Carcia papaya) Leaf Meal and Poultry Droppings Meal as Protein Sources Journal of Agriculture and Ecology Research International 16(1): 1-10. https://doi.org/10.9734/JAERI/2018/43922
Kalio G.A. And I. Etela, 2011 Nutritional And Sensory Profiling Of The African Giant Land Snail Fed Commercial-Type And Leaf-Based Diets In A Rain-Forest Ecology. African Journal of Food, Agriculture, Nutrition and Development 11(5)
Fagbuaro O., Oso J. A., Edward J. B. and R.F. Ogunleye 2006. Nutritional status of four species of giant land snail in Nigeria. J. Zhejiang Univ. Sci. B., 2006; 7: 686-689.
Bamidele, J. A., Ademolu, K. O., Idowu, A.B., Aladesida, A. A. and Oladele, A. O. (2018) Biochemical and Nutritional Composition of Giant African Land Snail (Archachatina marginata) from Southwest Nigeria Pertanika J. Trop. Agric. Sci. 41 (1): 129 - 138
Akinloye, O.A. and O. Olorede., 2000. Effects of different feeding conditions on performance, haemolymph biochemical and mineral value of Giant African snail (Archachatina marginata), Journal of Agriculture and Environment 1:143-147
Babalola, O. O., & Akinsoyinu A. O. (2009). Proximate composition and mineral profile of snail meat from different breeds of land snail in Nigeria. Pakistan Journal of Nutrition, 8(12), 1842–1844.
Kehinde, Adelakun, Halide, Babatunde And Fadimu (2020). Biochemical evaluation of meat and haemolymph of African Land Snail (Archachatina marginata, Swainson) in South-west Nigeria Egyptian j. Anim. Prod. 57(3):121-126 https://ejap.journals.ekb.eg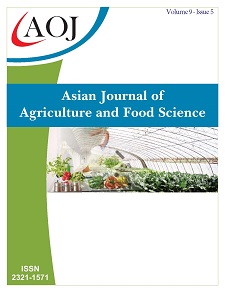 Downloads
How to Cite
Ilelaboye, N. O., Amuche, E. D. . ., & Nnaemeka, I. . (2021). Morphological Characteristics and Chemical Composition of Flesh and Haemolymph of Snails Fed Compounded Diet using Quail Droppings Meal as Protein Source. Asian Journal of Agriculture and Food Sciences, 10(5). https://doi.org/10.24203/ajafs.v10i5.6767
License
Copyright (c) 2021 Nasir Olaniyi Ilelaboye, Ede Dorathy Amuche, Iwunze Nnaemeka
This work is licensed under a Creative Commons Attribution-NonCommercial 4.0 International License.
Papers must be submitted on the understanding that they have not been published elsewhere (except in the form of an abstract or as part of a published lecture, review, or thesis) and are not currently under consideration by another journal published by any other publisher.
It is also the authors responsibility to ensure that the articles emanating from a particular source are submitted with the necessary approval.
The authors warrant that the paper is original and that he/she is the author of the paper, except for material that is clearly identified as to its original source, with permission notices from the copyright owners where required.
The authors ensure that all the references carefully and they are accurate in the text as well as in the list of references (and vice versa).
Authors retain copyright and grant the journal right of first publication with the work simultaneously licensed under a Attribution-NonCommercial 4.0 International that allows others to share the work with an acknowledgement of the work's authorship and initial publication in this journal.
Authors are able to enter into separate, additional contractual arrangements for the non-exclusive distribution of the journal's published version of the work (e.g., post it to an institutional repository or publish it in a book), with an acknowledgement of its initial publication in this journal.
Authors are permitted and encouraged to post their work online (e.g., in institutional repositories or on their website) prior to and during the submission process, as it can lead to productive exchanges, as well as earlier and greater citation of published work (See The Effect of Open Access).
The journal/publisher is not responsible for subsequent uses of the work. It is the author's responsibility to bring an infringement action if so desired by the author.