Preliminary Analysis of Grains Bought from Four Markets in Kano State
Keywords:
grains, food standards, impurities, food safety
Abstract
The new order in world trade demands strict adherence to the rules of food quality and safety as an essential factor in the selection of raw materials for production since the quality of end products is dependent on that of the raw materials for its production. Therefore, in order to determine the quality of some agricultural grains bought from four markets (Yankaba, Dawanau, Tarauni and A. Rimi) in Kano State, Nigeria. These grains were examined for test weights, pest infestation, level of impurities, and germination potential to determine their export and processing standards. The results showed some difference among the different grains in term of weight, which can be attributed to their difference in physical properties. The result showed that there was some level of impurities present in grains sold in these markets, but no live adult insect was present in all the grain sample. The result also showed that cowpea from respective markets did not meet the standard economic threshold of insect egg free. Cowpea samples had the highest level of insect damage, an average of 2.9 % insect damage was observed. From the result, the average seeds germination in maize and sorghum samples was high (95 % and 88 % respectively) and acceptable according to recommended standards. Determining these terms is important to end users during purchasing, storage, consumption, exportation, and processing, as such will help to increase their knowledge about condition of agricultural produce in our various agricultural market for satisfactory purchasing. There are some food safety standards met by grains sold in these markets, and most commodities sampled too had standards that are either acceptable or unacceptable for consumption, export and processing purpose.
References
Abdulahi G., Muhamad R., Dzolkhifli O., and Sinniah U.R. Damage Potential of Tribolium castaneum (Herbst) (Coleoptera: Tenebroinidae) on Cocoa Beans: effect of initial adult population density and post infestation storage time. Journal of Stored Products Research, 75:1 – 9, 2018.
Agriculture and Horticulture Development Board (AHDB). Inspecting Grains for Defects and impurities. AHDB Cereals and Oilseeds. Available online: cereals.ahdb.org.uk, 2016.
Dinrifo Rufus Rotimi. Quality, Production and Export of Agricultural and Food Commodities in Nigeria. International Conference on Science and Technology, FUT, Akure, Nigeria. 14-19 August, 2005. Retrieved online at: https://www.researchgate.net/publication/284183925, 2005.
Ferguson J.M., Keys R.D., McLaughlin F.W., and Warren J.M. Seed and Seed quality. NC State Extension Publication, 1991. Retrieved online; 25-08-2021.
Food and Agricultural Organisation of the United Nation (FAO). Seed Toolkit; module 3: seed quality assurance. ISBN 978-92-5-130951-3, 2018.
Food and Agricultural Organisation of the United Nation (FAO). Seed and Seed Quality: Technical Information for FAO Emergency Staff. FAO Seed and Plant Genetic Resources Service Rome, Italy. AGPS Draft Publication, 2021. Retrieve online: 28-04-2021.
Guillermo P. Moreda, Margarita Ruiz-Altisent. Quality of agricultural products in relation to physical conditions. Encyclopedia of Agrophysics; Springer. Glinski. J.: Horabik. J.: Lipiec, J.: (Eds.). Online; http:// www. Springer.com/978-90-481-3584-4, 2011.
James E. Dexter, and Maria Grazia D'Egidio. Grading Factors Impacting Durum Wheat Processing Quality. Durum Wheat (second edition); Chemistry and Technology. American Association of Cereal Chemists International. Pp 235-250, 2012.
KANINVEST. Kano State; Investment Potentials. Kano Sate Ministry of Science, Technology and Innovation, 2021. Retrieved online @ Investment Potentials | Kano (kanostate.gov.ng) on 26-08-2021.
Marli A. Ranal and Denise Garcia De Santana. How and Why to Measure the Germination Process. Revista Brasil. Bot., V.29, n. 1, Pp 1 – 11, 2006.
Tilley M. and Miller R.A.. Wheat Breeding and Quality Evaluation in the USA. Breadmaking (Second Edition). Improving Quality. ScienceDirect; Woodhead Publishing Series in Food Science, Technology and Nutrition; Pp 216 – 236, 2012.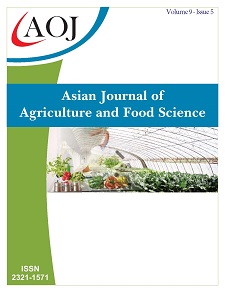 Downloads
How to Cite
Anugwom, U. D., Awotunde, D. R., Bamishaiye, E. I., Abubakar, A., & Adamson, T. O. (2021). Preliminary Analysis of Grains Bought from Four Markets in Kano State. Asian Journal of Agriculture and Food Sciences, 10(5). https://doi.org/10.24203/ajafs.v10i5.6749
License
Copyright (c) 2021 Uzoma D. Anugwom, Damilola R. Awotunde, Eunice I. Bamishaiye, Auwalu Abubakar, Toluwaloju O. Adamson
This work is licensed under a Creative Commons Attribution-NonCommercial 4.0 International License.
Papers must be submitted on the understanding that they have not been published elsewhere (except in the form of an abstract or as part of a published lecture, review, or thesis) and are not currently under consideration by another journal published by any other publisher.
It is also the authors responsibility to ensure that the articles emanating from a particular source are submitted with the necessary approval.
The authors warrant that the paper is original and that he/she is the author of the paper, except for material that is clearly identified as to its original source, with permission notices from the copyright owners where required.
The authors ensure that all the references carefully and they are accurate in the text as well as in the list of references (and vice versa).
Authors retain copyright and grant the journal right of first publication with the work simultaneously licensed under a Attribution-NonCommercial 4.0 International that allows others to share the work with an acknowledgement of the work's authorship and initial publication in this journal.
Authors are able to enter into separate, additional contractual arrangements for the non-exclusive distribution of the journal's published version of the work (e.g., post it to an institutional repository or publish it in a book), with an acknowledgement of its initial publication in this journal.
Authors are permitted and encouraged to post their work online (e.g., in institutional repositories or on their website) prior to and during the submission process, as it can lead to productive exchanges, as well as earlier and greater citation of published work (See The Effect of Open Access).
The journal/publisher is not responsible for subsequent uses of the work. It is the author's responsibility to bring an infringement action if so desired by the author.